C+D Salary Survey 2016: Who experienced a £2k pay rise?
The survey – conducted from October-December 2015  – reveals that some pharmacist groups fared better than others
EXCLUSIVE
The average salary for a second or non-manager community pharmacist increased by more than £2,000 between 2014 and 2015, according to the results from C+D's latest Salary Survey.
The average salary was £35,037 for the 198 second or non-manager community pharmacists who responded to the survey – which ran between October 16 and December 21 last year.

This compares to the average £32,905 salary of the 191 respondents the previous year (see below).
Branch managers saw a slight increase in their average salary (see below), which rose from £43,838 in the 2015 survey to £44,107 last year.
"Feelgood factor"
South Wales contractor Paul Mayberry, who owns six pharmacies, told C+D he was surprised by the results. He said that the rise could have been caused by businesses choosing to give their pharmacists a pay rise after "weathering the storm" of category M clawbacks in 2012.
But Mr Mayberry said that any "feelgood factor" that could have contributed to businesses increasing pharmacists' salaries had been "destroyed" by the government's announcement of cuts to funding last December.
Richard Wells, superintendent at Weldricks, told C+D that he was surprised salaries had changed at all. But he pointed out that "a lot has happened" since pharmacists were likely to have been given their last pay rise.
Although the multiple had not given its pharmacists "inflationary pay rises" last year, it is trying to offer "the best rewards that we can", Mr Wells said. "We want to keep our best people," he added.
Weldricks tries to offer a variety of work, which Mr Wells said "brings it own rewards". The chain also compensates its staff with performance bonuses and meals out, he added.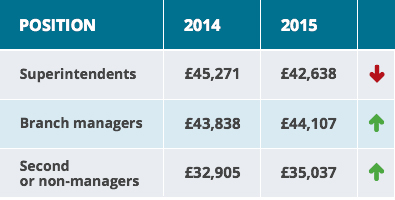 Superintendent pay falls
While the pay of employee pharmacists increased last year, it fell for superintendents.
The average salary of the 54 superintendent pharmacists who responded to the Salary Survey 2016 was £42,638, compared with £45,271 the previous year.
Area manager pay revealed

The latest survey was the first time C+D has specifically asked for the salaries of area managers. The average salary of these 11 respondents was £52,499.
Contractors

Just one contractor, who said they earned more than £70,000, from their pharmacy in the south-east of England, responded to the surveys question on salaries.
C+D will reveal how locum rates changed between 2014 and 2015 in a separate article later this week
 


How did your salary change last year?
We want to hear your views, but please express them in the spirit of a constructive, professional debate. For more information about what this means, please click here to see our community principles and information