PDA: 'A number' of pharmacists report severe staff shortages
"A number of pharmacists" have reported having to operate a pharmacy with "no staff", the Pharmacists' Defence Association (PDA) has said.
This included a pharmacist who the PDA advised to close the pharmacy for the day following concerns that the lack of staff could impact patient safety, PDA director of defence services Mark Pitt told C+D last week (April 20).
The unnamed locum – who contacted Mr Pitt last winter – had considered closing the pharmacy during opening hours because they "felt that was the safest option, while they caught up on matters and attended to things that were urgent".
"It is very pressurised when you're left on your own without any qualified staff and you've got 10 people deep at the counter waving their prescriptions," Mr Pitt said.
Mr Pitt spoke to C+D in the wake of an anonymous allegation that a former Sainsbury's pharmacy is suffering from "dangerous working conditions" since it was acquired by Lloydspharmacy.
Lloydspharmacy told C+D last week that the claim was "concerning...but it is not our belief that there is a broader issue".
However, Mr Pitt said the number of workplace pressure cases the PDA has dealt with recently "tends to suggest there's a wider problem" in the sector.
Mr Pitt has "personally been involved" with "three or four cases" of pharmacists finding themselves in "difficult circumstances", and his team continue to "advise others", he said.
The PDA is dedicating a "whole strand" of work to the "increasing area" of workplace pressures, Mr Pitt said. However, he would not provide any specific details at this time.
Are you feeling the pressure of the funding cuts?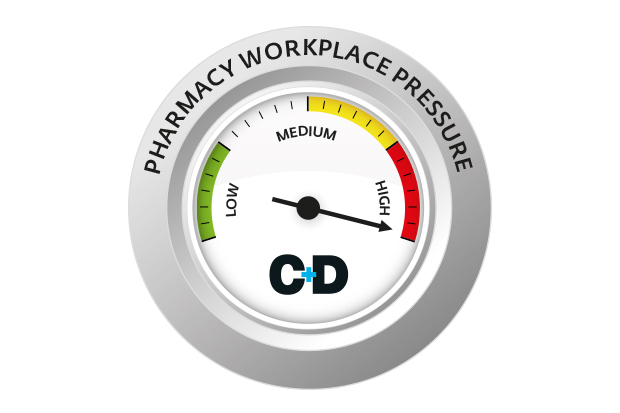 Have you noticed an increase in pressure at work as the funding cuts have started to 'bite'? Have you been asked to reduce your hours or increase the number of medicines use reviews? Or has a change of ownership affected your pharmacy?
Share your story with C+D by emailing us at this address with the subject "pharmacy pressures". We will respect all requests for anonymity.
Please provide as much detail as possible, including the relevant town or region.