Revealed: Technicians' role in pharmacist care home scheme
England's chief pharmaceutical officer has explained how technicians will assist pharmacists as part of a NHS England-funded care home programme.
"Not just pharmacists, but pharmacy technicians too" will take part in NHS England's two-year programme to improve "medicines optimisation and pharmacy integration for care homes", Keith Ridge told the Health+Care conference in London last week (June 28).
The scheme is being paid for out of the Pharmacy Integration Fund, a £42 million fund created last year to support community pharmacy to "develop new clinical pharmacy services, working practices and digital platforms".
The care home scheme was announced in October 2016, with the original start date set as April 2017. At the time, NHS England said the initiative would include "deployment of pharmacy professionals in care homes, and funding workforce development for pharmacists who work in care homes – including a prescribing qualification".
In his presentation last week, Mr Ridge said the scheme would help pharmacists and technicians "to deliver the standards which we expect as set out by [the National Institute for Health and Care Excellence] on medication use in care homes, to improve residents' health and outcomes, and therefore to optimise medicines use in care home residents".
NHS England would be "saying more about" the care home programme "in July", he added.
The role of technicians
Technicians will "review all patients in care homes" and "identify new patients for review", according to a slide from Mr Ridge's presentation (see below for more information).
They will also handle "medicines reconciliation upon admission to the care home" and "wastage, ordering, [and] support with medication rounds".
"During the care home ward round, the technician may attend and be the link into the multi-disciplinary team on behalf of [the] pharmacist."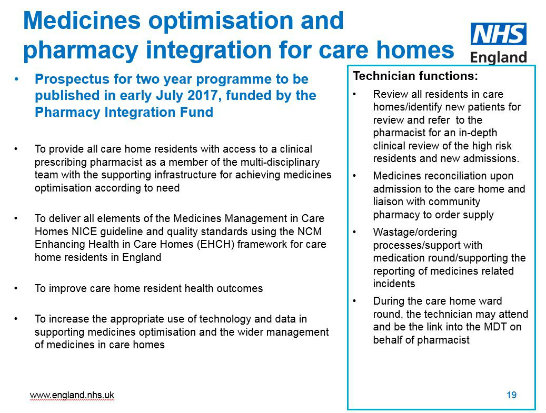 In February 2016, the Royal Pharmaceutical Society published a report claiming that £135 million could be saved across England each year by aligning a pharmacist with every care home. The RPS also co-chairs the Pharmacy Integration Fund care homes task group.
C+D news editor Grace Lewis is reporting live from the Association of Pharmacy Technicians UK's conference in Cardiff today (July 3). Catch up with the coverage by following @CandDGrace or search for #APTUK17