Pharmacy2U online clinic 'not safe or well-led', finds CQC
Pharmacy2U's online clinic does not provide "safe, effective or well-led" services, an inspection by health regulator the Care Quality Commission (CQC) has concluded.
The online pharmacy business – which registered with the CQC in December 2012 – contracts GPs to conduct patient consultations remotely, when medicines are bought from the website. It was this service that was subject to a "comprehensive inspection" by the CQC on February 14, 2017.
"We found this service provided caring and responsive services, but not safe, effective or well-led services in accordance with the relevant regulations," the CQC said in its inspection report, published last week (June 29).
The CQC outlined areas where Pharmacy2U "must make improvements" (see below), including updating its emergency care protocols and patient consent policies.
A spokesperson for Pharmacy2U said the company is "implementing the improvements suggested in the report" (see full response below).
Emergency care protocols
The CQC said in its report that while Pharmacy2U "made it clear to patients on their website what the limitations of the service were", it "had not considered what action might be needed in the event of an emergency situation".
The regulator also noted the company's failure to verify patients' location at the time of the consultation, which would cause "delays" if emergency services needed to be called.
Patient identity
In 2016, the General Pharmaceutical Council suspended Pharmacy2U's commercial director for three months for the company's sale of patient data in 2014. The company stressed at the time that it was "sincerely sorry", and that no medical information had been shared.
The CQC concluded in its report last week that there are now "policies and IT systems in place to protect the storage and use of all patient information" at Pharmacy2U.
The regulator also noted that "there were business contingency plans in place to minimise the risk of losing patient data", and the company's "comprehensive IT department" meant changes and improvements could be made quickly.
However, "there were no formal protocols in place for identifying and verifying the patient's identity…and there could still be doubt about the identity of the patient requesting a prescription", it stressed.
During the CQC inspection in February, the company reportedly told the regulator that it does not treat children. The Pharmacy2U website advises that treatment for anyone under 18 years is not available, the CQC noted.
"However, we saw no system in place to minimise the risk of under-18s seeking treatment covertly," it said.
Off-label medicines use
When it came to Pharmacy2U doctors prescribing off-label medication, the company "did not supply any additional information to patients, other than the standard manufacturer's patient information leaflet.
"This meant that patients may not have been clear on how to use the medicines for an unlicensed condition," the CQC said.
However, Pharmacy2U took "immediate action" following the inspection, and has "devised a system to ensure that detailed instructions are emailed to patients following their consultation", the regulator added.
Asthma failings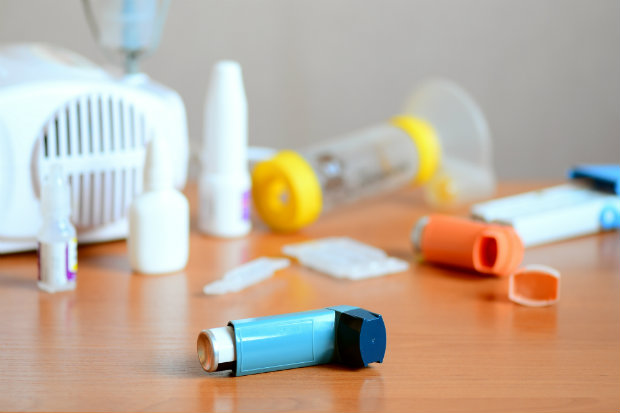 Pharmacy2U "took steps" to reduce risks to asthma patients, after the CQC found that "care in relation to asthma was not being delivered in line with current evidence-based guidance and standards.
"For example, we saw that some patients with asthma had indicated their condition may not be well controlled; however, this had not been followed up and they still had been supplied with inhalers."
The company will now ensure a patient's own GP is informed when asthma medication is prescribed, the CQC said.
The CQC noted that patient satisfaction for Pharmacy2U's services was rated 8.9 out of 10, after 20,000 reviews, according to an external customer survey service.
In March, the CQC announced a "programme of inspections" into "digital healthcare providers" in the UK, which will "prioritise those services it considers as potentially presenting a significant risk to patients".
Commenting on the CQC's report, Avicenna CEO Salim Jetha said it is "sad to hear that the profession has been let down on care and safety concerns, which is fundamental to everything we do".
Pharmacy2U's response
Pharmacy2U said it "values the input and guidance" from the CQC's inspection.
"Pharmacy2U has over 18 years of experience, and has undertaken over 180,000 consultations without a single patient complaint."
The company welcomed the "new guidelines put in place by the CQC, "which are now specific to online medical services and came into effect after our latest inspection".
"These will help all online doctor services and ultimately benefit patients, who are demanding a more convenient, modernised health service," it added.
Read the CQC's report in full here.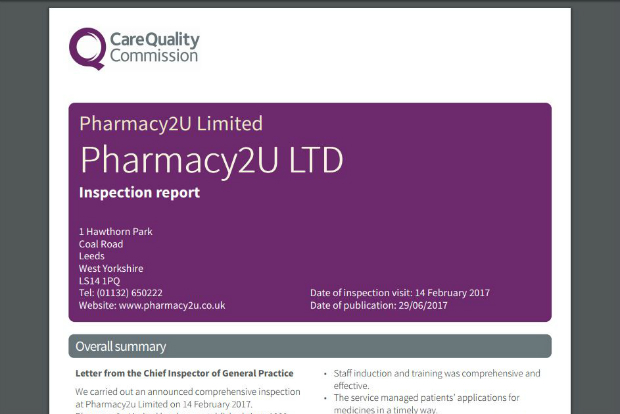 The areas where Pharmacy2U must make improvements are:
Ensure capacity and consent policies make reference to the Mental Capacity Act (MCA) 2005, and clarify staff responsibilities in relation to this
Update medical questionnaires in order to capture all potential relevant information and ensure all are based on current best practice guidance
Ensure there is a focus on quality improvement and a system of audit
Ensure medical emergency procedures and protocols are effective
Maintain contracted GPs' training records
Ensure contracted GPs are assessed and appraised for their work within Pharmacy2U
Ensure recruitment processes for non-clinical staff include medical fitness declarations
Ensure there is an effective patient identification process.
The areas where the provider should make improvements are:
Update its safeguarding policy to include details of how to escalate concerns to relevant local authorities
Strengthen the advice provided to patients around account security.
Source: Professor Steve Field, CQC chief inspector of general practice
C+D reported live from Pharmacy2U's fitness-to-practise hearing in 2016. Catch up on all the coverage here