Pharmacy tends to be looked down upon, MPs told
Community pharmacy "tends to be looked down upon", which means it is often ignored by policy makers, MPs and delegates were told at the Labour party conference.
Speaking at a National Pharmacy Association (NPA) event at the conference in Brighton on Monday (September 25), Jeremy Taylor, chief executive at charity coalition National Voices, said the public sees pharmacy "quite narrowly and transactionally as being about 'dishing out medicines'".
Mr Taylor came to this conclusion from a report his organisation published after a March 2015 workshop with the Royal Pharmaceutical Society. It involved patients, medical professionals and charity representatives discussing how pharmacy could strengthen its role in treating patients with long-term conditions, he said.
"One of the things people fed back was 'I like my pharmacist, but I'm not quite sure pharmacists have the clinical skills and understanding that I would trust them with'," he told the event, which brought together pharmacy representatives and Labour MPs to discuss pharmacy's role in relieving pressure on the NHS.
"This is not a scientific example, it's not huge polling, it's just a bit of workshoppy stuff," he acknowledged.
Mr Taylor advised pharmacists to be "more proactive" by promoting their capability "a bit more aggressively", because the government is "not thinking much about pharmacy" at the moment.
LPC quality varies across the country
James Noyes, head of policy at think tank ResPublica, urged the sector to "explain why there is such a variety between pharmacy representation, partnership and outlook across the country".
"Local pharmaceutical committees vary depending on geography," he claimed. "You can have a fantastic one in London, but perhaps a less effective one in other parts of the country."
"It is not good enough to have a pharmacy partnership in one part of the country that has one person working 15 hours a week, looking after numerous pharmacies across the county," Mr Noyes said.
"That's not good enough."
He recommended pharmacies "scale themselves up" and "standardise" their offerings to improve patient access.
Mr Noyes – who is leading a NPA-commissioned report into the "social and political rationale for community pharmacies" – also said community pharmacists "need to get their act together" and "take themselves more seriously".
"They are not a poor man's GP," he stressed.
"The government doesn't get it"
.@JulieForBurnley: Gov should sit down and ask how c pharmacy can do more. #Lab17 pic.twitter.com/jfwkidrFIB

— Thomas Cox (@CandDThomas) September 25, 2017
Attendees to the panel event also heard views on how the government sees community pharmacy.
NPA chairman Ian Strachan told the audience he thinks Conservatives are "burying their heads in the sand to some degree" regarding community pharmacy, but the public "gets it", he said.
While panel member Julie Cooper, Labour MP for Burnley and Padiham, said there is a "genuine ignorance" in government, as "they see pharmacists as dispensers of prescriptions and people who sell paracetamol – they don't get the wider role".
"What they ought to be doing and what a Labour government will be doing – if given the opportunity – is to sit down with the sector and say: How can you take pressure off the NHS, how can you expand services?" she said.
The government should make the most of "the only healthcare professional[s] that are standing up and saying: 'We want more work'," she added.
Universal health checks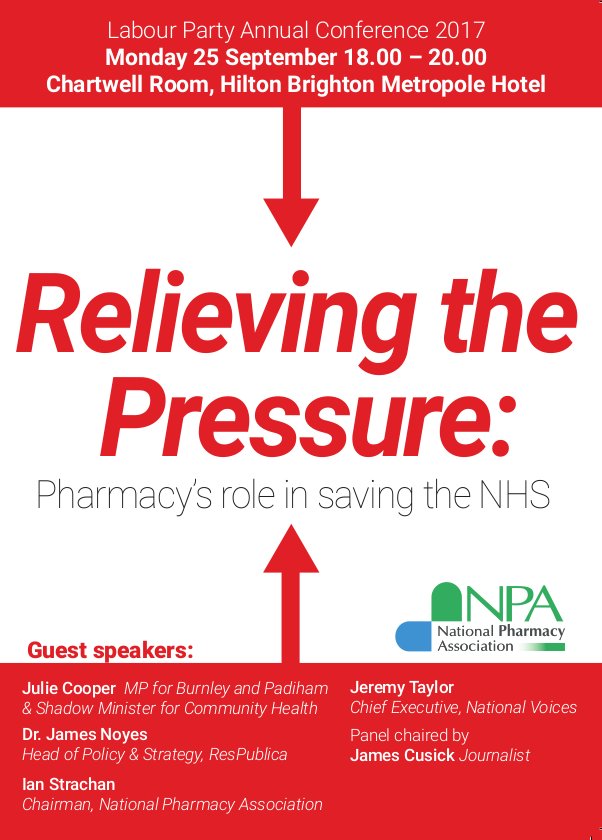 Mr Noyes suggested a pharmacy-commissioned "universal" NHS health check service given "every five years" to "all people, not just the over-40s", would help "get on top" of long-term conditions such as obesity, diabetes and blood pressure.
"Prevention [of health problems] is much cheaper than the cure," he said.
However, Mr Taylor responded: "Let's not make it universal, let's think about how we can smartly target it. Based on the concept of healthy living pharmacies."
Pharmaceutical Services Negotiating Committee chief executive Sue Sharpe – who was in attendance – told delegates: "We need to change the way pharmacies are funded, so that we're properly paying pharmacists to look after patients and not just to supply medicines."
See what else was said at the NPA event by following C+D's digital reporter Thomas Cox on Twitter.