Pharmacist stabbing prompts 'zero tolerance' crime campaign
A "zero tolerance" campaign has been launched in response to a spate of violent attacks and abusive behaviour towards community pharmacy staff in Northern Ireland (NI).
The campaign – which was launched by NI's commissioning body the Health and Social Care Board (HSCB) last month (September 22) – aims to "reduce the risks of further incidents".
It is part of a "range of measures" developed by the HSCB and the NI Department of Health (DH) to improve the safety of pharmacy staff and premises.
The HSCB launched a review into community pharmacy safety in July, following "a number of violent thefts" in the country, including an incident at James McDonagh Pharmacy in west Belfast, which saw two pharmacists stabbed in a failed attempt to steal tramadol.
Speaking to C+D today (October 6), HSCB head of pharmacy Joe Brogan said the board believes that with "a consistent message, we can start to change the culture".
During the launch event, Mr Brogan referenced data obtained by C+D as part of its recent UK-wide investigation into crime in pharmacies.
Raising awareness
Posters and leaflets (see below) have been printed and distributed to "every primary care provider in NI", Mr Brogan told C+D. This includes "550 pharmacies, 400 dental practices and 300 ophthalmic practices".
"We encourage each practitioner groups to prominently display material," he said. "If someone is abusive or aggressive, they [will] have trained their staff to deal with it."
Mr Brogan said he hopes to see a change in pharmacy staff's perceptions of how vulnerable they feel.
"I would like to see more reporting of verbal aggression."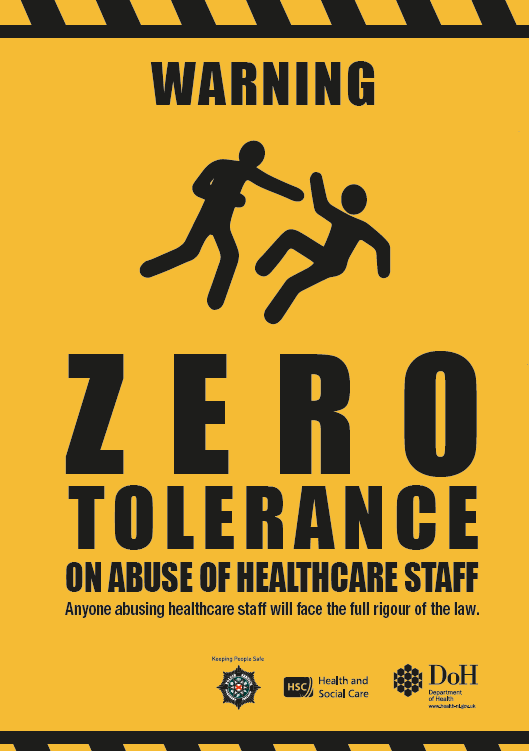 Value of CCTV
The survey of pharmacy premises – conducted by HSCB between July and September – revealed that less than 10% of pharmacies with CCTV had a notice or poster highlighting it, Mr Brogan said.
"The deterrent value is lost," he stressed.
Police Service Northern Ireland (PSNI) will also conduct follow-up visits to the highest-risk pharmacies, and support those prone to attacks, Mr Brogan added.
Abuse "cannot be tolerated"
Commenting on the launch of the campaign, Community Pharmacy Northern Ireland (CPNI) said "recent attacks in community pharmacies have resulted in a number of pharmacists being stabbed, and these types of attacks – as well as verbal abuse and threatening behaviour directed at pharmacy staff – cannot be tolerated".
Both pharmacy staff and patients should be able to deliver and access services "in a safe and secure environment, without the threat of abuse or violence", CPNI chief executive Gerard Greene said.
"We look forward to the continuation of this work."

In August, C+D's investigation into crime in pharmacies revealed that the Police Service of Northern Ireland recorded 28 cases of "violence against a person" in 2016, including one that resulted in a "serious" injury caused by a blade or knife.
See the level of crime in pharmacies in your area in 2016 with C+D's interactive UK map.