Superintendent pay rises at 10 times rate of employee pharmacists
The average salary for superintendents rose by almost £6,000 over two years, while non-manager pharmacists saw a rise of under £600, according to the C+D Salary Survey 2017.
The average salary of the 282 "second or non-manager community pharmacists" who completed the C+D Salary Survey – which ran throughout October – increased £584 between 2015 and 2017, from £35,037 to £35,621.
One respondent working for a large multiple said they had received a "pay freeze for the last four years", while another said they were now paid £50-per-month more than they were "over three years" ago.
C+D will be publishing survey insights from working at the "big three" multiples in a separate article.
Of non-manager pharmacist respondents working for smaller chains or independents, one told C+D their salary increases "50p or £1 every year", while another said they had experienced a "forced contract change and reduced salary in the last 12 months".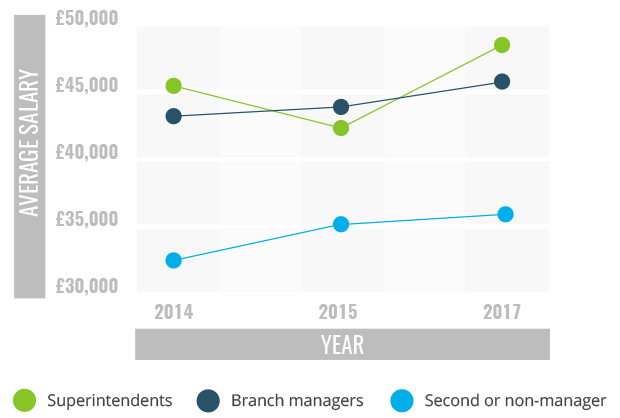 Superintendent salary rise
In comparison, the average pay for the 57 superintendent pharmacists who completed the 2017 survey rose from £42,638 in 2015 to £48,596 this year – an increase of £5,958.
This marked a bounce-back for superintendents, who previously saw their pay drop by £2,633 between 2014 and 2015 (see graph above).
However, one superintendent – who is now being paid between £55,000 and £60,000 – said they had experienced a salary "reduction of £20,000".
Another working for an undisclosed multiple was "dissatisfied" with their salary of between £35,000 and £40,000, having not seen an increase for six years.
£1,200 increase for branch managers
In contrast, the average salary for branch managers saw a more modest increase of £1,262 – from £44,107 in 2015 to £45,369 in 2017.
One branch manager working for a large multiple told C+D they had a "yearly salary" increase, while another branded their 1% annual pay rise "pitiful", as it amounted to "nothing" once inflation and travel costs were taken into account.
Of the branch managers at smaller chains or independents, one told C+D they "haven't had a pay rise in 10 years", while another said their request for a pay rise had been denied because they "didn't hit medicines use review [or] discharge medicines review targets".
Two branch managers said they earned a salary of over £70,000, up from one branch manager in the 2015 survey.
Area manager pay falls
The 2017 Salary Survey was only the second time C+D has specifically asked for the salaries of area managers. Of the 14 who responded this year, the average salary was £52,321 – a marginal £178 drop on the 2015 average of £52,499.
How does your salary compare to your peers? Use C+D's Salary Survey Calculator below to find out: