Manufacturers may scrap low-margin products to cover EU barcode costs
Some "low-margin products could be at risk" as manufacturers look to cover the costs of a new EU medicine scanning law, a representative body has told C+D.
Under the falsified medicines directive (FMD), all community pharmacies in the UK will have to scan medicines at the point of dispensing from February 2019, as part of European anti-counterfeiting measures.
The new legislation requires pharmacies to train staff and install scanners, while manufacturers will have to put new barcodes on their medicine packs.
Speaking to C+D after his session at Sigma Pharmaceuticals' annual conference in Borneo, British Generic Manufacturers Association (BGMA) chairman Peter Ballard said manufacturers will be looking at ways to "spread the costs" of the "costly" FMD implementation.
"Some manufacturers will be looking at their portfolios, and the costs of implementing barcodes across certain low-margin lines, and thinking: I'm not going to bother on products that are making 0.02p," he told C+D on Tuesday (February 13).
"Some low-margin products could be at risk," Mr Ballard stressed.
"Crazy" amount of work for pharmacists
National Pharmacy Association chief pharmacist Leyla Hannbeck told Sigma delegates that pharmacy owners face a "crazy" amount of work to implement the directive. "Unfortunately" this includes covering the costs of installing scanners in each of their premises, she said.
"This EU measure has already landed, so Brexit won't save us from this," Ms Hannbeck said during the conference.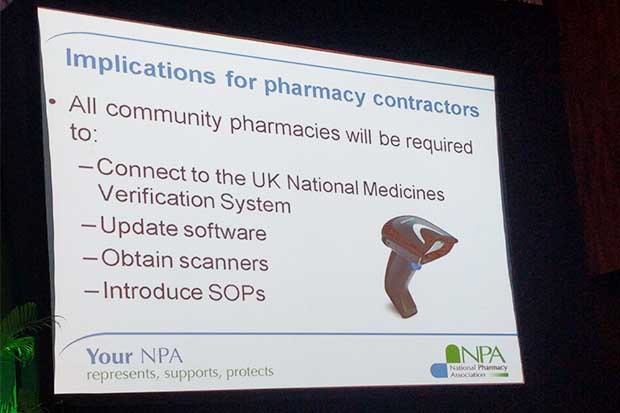 For more information on how the new EU medicine scanning law will impact community pharmacy, visit the UK FMD Working Group for Community Pharmacy's website.
See more of news editor Grace Lewis's Twitter coverage from the Sigma conference by following @CandDGrace