Category focus: Head lice and worming
Grocery is advancing on pharmacy's dominance in the £30m head lice and threadworm categories – Kathy Oxtoby explains how to stand your groundHead lice and threadworms are conditions surrounded by stigma – but growing in prevalence. Every year, around three million people in the UK catch head lice, with one in 10 primary school children experiencing an infestation at some stage, while around 40 per cent of children under the age of 10 may be infected with threadworms at any one time. The head lice market is worth around £25 million, while the threadworm market is valued at around £4.6m, according to data analyst SymphonyIRI (see Market Insight, p22). Pharmacy is somewhat staving off competition from the grocery sector in the threadworm category, showing growth albeit at a lower level than its rival. However, the grocery sector continues to increase its share of the head lice market – a small growth in contrast to double digit decline in the pharmacy sector.Despite this competition, there are many opportunities for pharmacists to boost their sales of head lice and threadworm treatments, because they are "ideally positioned" to educate consumers on these conditions, believes Mimi Lau, director of professional and training services at Numark. "The target audience is mothers with young children, and these people already go into pharmacy as part of their community set-up and so would have a rapport with a pharmacist," says Ms Lau. While pharmacists might be the first port of call for worried parents in need of information about these conditions, research commissioned by head lice treatment brand Hedrin shows the profession could be better informed. In 'Getting ahead of head lice: A study into head lice management in the UK', 71 per cent of pharmacists said they were not up to date with the latest head lice advice, while 67 per cent believed that head lice management advice given to parents was inconsistent. "There's a lot of mis-information out there. But people see pharmacists as the most important source of advice for head lice, so staff need to be up to speed with this condition ," says Caroline Wheeler, marketing manager for Hedrin.By ensuring staff are fully informed about head lice and threadworms, pharmacy can help to dispel the myths and misconceptions about them. "Customers still have the mindset that the infections are caused by lack of hygiene and dirty living conditions. They need reassurance that the conditions are extremely common, and with medication and hygiene advice can be quickly and easily treated," says Adrian Wilkinson, superintendent pharmacist for Midcounties Co-operative Pharmacy.Rachel Lewis, pharmacy manager at Lloydspharmacy in Vesper Road, Leeds, says that given these conditions can be "a bit embarrassing for some customers to discuss, pharmacists or healthcare assistants should use the consultation room as necessary to give advice to customers". Having leaflets on display at the front of the counter can also help to make the pharmacy a more approachable place for  customers to find out more about these conditions, Ms Wheeler suggests.Pharmacists should stock a comprehensive range, which includes market leaders and innovation within the category, says Emma Charlesworth, retail excellence manager for Numark. "Ensuring the consumer is given a choice of treatment options from wet combing to mousse, liquid to lotion, is more likely to lead to a purchase and prevents them from going elsewhere to make a selection," Ms Charlesworth says. She suggests considering merchandising treatment shampoos such as tea tree or medicated shampoos alongside head lice products to encourage a link sale.Managing head lice and worm conditions is not just about selling products but also prevention, stresses Boots pharmacist Angela Chalmers, from the multiple's Holloway Road, London branch. "It's easy when you're busy just to sell over the counter, but we also need to do health promotion and prevention and give tips on how to get the best out of treatment and stop these conditions happening again," she says.Ms Lau says pharmacists can add value to patients requesting help with lice infestations by counselling them fully on detection and treatment options, so patients understand how to use combs and products correctly. "In general, the high failure rates for all methods of lice removal are often directly related to poor patient compliance - often not applying enough insecticide or failing to repeat the application or failure to follow the correct combing guidelines," she says.Pharmacists should consider positioning head lice and worming products within the children's medicines category rather than within a category on their own, Ms Charlesworth advises. "This will help customers self-select when purchasing a GSL product and assist in navigation on the P category, helping to make the various ranges more visible," she says. Associated products should be displayed together, for example, nit combs alongside the head lice products, suggests Ms Lewis.Pharmacists could consider creating a 'family health' section for products that treat both head lice and threadworms, advises Prima Deb, pharmacist training officer for the NPA. She says sales of these medicines are likely to be higher during term time, and that it may be worth putting a poster in your pharmacy window advertising that you provide advice and treatment during September and October when these conditions are more prevalent. It may also be worth asking a local school if they are happy for you to talk to children about head lice and threadworms or to organise a talk with parents at the school who are worried, she suggests. Kaye Devlin, branch manager of the Co-operative Pharmacy in Craigentinny, Edinburgh, says staff at the pharmacy have a good relationship with local schools and make them aware of treatments available, which also helps boost local relationships in the community. "If you build up relationships with schools you will have a good relationship with customers who won't mind asking you about these conditions because they know they will have a confidential service," she says. For pharmacy, helping customers to tackle head lice and worming effectively is not just about bug-busting but also about myth-busting. As Ms Chalmers says: "Judge your customers on a case-by-case basis, look at the levels of confidentiality they need and try to bust the stigma surrounding these conditions."
Best-selling brands: head lice
1.     Hedrin2.    Full Marks3.    Lyclear4.    Nitty Gritty5.    Derbac M6.    Own label7.    Nyda8.    Escenti9.    Nice 'n clear10.     Safe & SoundTotal market. Source: SymphonyIRI, 52 weeks to May 15, 2010
Market Insight: Head lice and worming
Pharmacy still controls almost three quarters of the head lice treatment and management market, which has declined by more than 7 per cent in the past 12 months.However, grocery is gaining share, gaining 2 per cent in its market share value, compared to a decline of over 10 per cent in pharmacy.The threadworm treatment market, led by the Ovex brand, is in growth of almost 4 per cent. Pharmacy has a market share of more than four fifths, and the value of this is growing by 2.5 per cent. But grocery is again advancing on market share, its value increasing by over 10 per cent.Market changes 2009-10 Head liceTotal market value£25,275,360 Down    7.4%Pharmacy     £18,278,284 Down    10.6%Grocery     £6,967,832 Up    2.2%ThreadwormTotal market value£4,585,954 up    3.9%Pharmacy     £3,670,415 up 2.5%Grocery     £915,484 up 10.3%
Five head lice and worming sales tips
1 "Customers tend not to listen to instructions well when they are embarrassed and want to buy a product as fast as possible so provide them with printed material to read once they've left the shop." Adrian Wilkinson, superintendent pharmacist, Midcounties Co-operative2 "For head lice, recommend a regime, a treatment (such as a solution/liquid/mousse), prevention (shampoo), and an appliance (such as a nit comb)."Emma Charlesworth, retail excellence manager, Numark3 "Explain the full range of different treatments available so that the customer knows what will suit them best."Kaye Devlin, branch manager, Co-operative Pharmacy, Craigentinny, Edinburgh 4 "People can be embarrassed to ask for head lice and worming products so make sure they are easily visible and that the treatment sections are well signed."Samiah Tambra, pharmacist manager, Pennfields branch, Midcounties Co-operative Pharmacy5 "It is important that healthcare assistants are knowledgeable about the different products that are available over the counter, and are confident in the advice that should be giving to parents." Rachel Lewis, pharmacy manager, Lloydspharmacy, Vesper Road, Leeds
Product Watch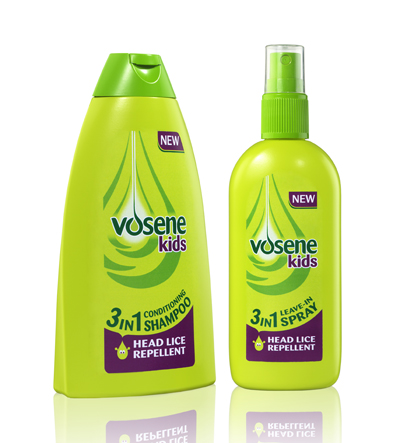 Vosene Kids 3-in-1 Conditioning Shampoo and Leave-in SprayManufacturer: Lornamead UKClassification: CosmeticFor: Prevention of head liceActive ingredients: Tea tree oil and lemon eucalyptusWhat's new? An integrated campaign including radio advertising and PR is planned for SeptemberContraindications: Avoid contact with eyes. Leave-in spray: tea tree aroma may affect epilepsy and acute asthma sufferers; avoid inhalation; not suitable for children under three yearswww.vosene.co.uk, tel: 01276 674000Email: [email protected]Format/pack size: Conditioning Shampoo 250ml; Leave-in Spray 150ml Pip code: 340-0058; 340-0066RRP: £2.49Hedrin Once Liquid Gel and Spray Gel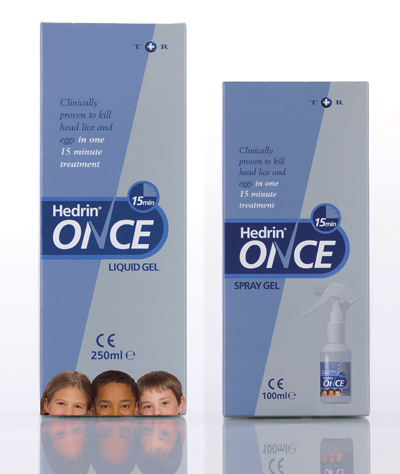 Manufacturer: Thornton and RossClassification: Medical deviceFor: The treatment and management of head liceActive ingredients:  Hedrin Once is a silicone-based (dimeticone) lotion that effectively kills lice by smothering the insects and disrupting their ability to manage water. What's new? The August launch of Hedrin Once will be supported by the brand's largest ever PR and TV advertising campaign.www.hedrin.com, tel: 01484 842217Email: [email protected]/pack size: Spray Gel 60ml, 100ml; Liquid Gel 100ml, 250mlPip code:     346-7180; 346-7172; 346-7164; 354-2073RRP: Spray Gel £6.99/60ml, £11.49/100ml; Liquid Gel £9.99/100ml, £17.49/250mlCase studies: treatments and advice
Boots, CheltenhamMilak Rahman
The branch manager shares his experience of tackling head lice and threadwormsHead liceHead lice tend to be more prominent in young children. Parents should look out for black dust on pillow cases, and for eggs – which look like little white dots – that may be on the hair, close to the scalp. To show up nits or eggs parents should comb conditioned hair using a nit detection comb. The conditioner helps make it easier for nits to come off and the comb helps to see if any head lice are there. Overnight treatments tend to be better because they are on the hair longer and they kill off lice as well as the eggs. There are also 10 or 15 minute preparations, which either have an alcoholic or an aqueous base. Pharmacy staff should check whether the child suffers from sensitive skin problems or asthma, as certain alcohol-based preparations can set off a reaction in small children. Pharmacists should stress the importance of following treatment directions as failure to do so is often a cause of re-infestation.Threadworms The biggest cause of threadworms is uncooked meat - usually pork-related meats - and they tend to occur in children. Worms can be in the gut but also pass out in the anal passage. If a child scratches their back passage and their hand goes back in their mouth the whole cycle of threadworms starts again.Common symptoms will be an itchy anal passage, diarrhoea and constipation and white strands in the faeces.One solution is an anthelmintic preparation, which kills off the worm in a one-off dose. Treatment can be taken either in a tablet or liquid form, and if needed a second treatment can be applied after two weeks. If threadworms are identified then the whole family should be treated.  To prevent threadworms you should advise that all meat should be cooked properly. Children shouldn't scratch their back passage and they should wash their hands before eating and be discouraged from sucking their thumbs.
Midcounties Co-operative Pharmacy, PENNFIELDSSamiah Tambra
Prominent displays, awareness days and information leaflets can all help to boost your head lice and worming business, advises the branch manager Enhance your product layoutThe pharmacy recently had a refit, which has opened the shop area more and allowed us to better highlight some areas, like head lice and threadworm treatments, for which we have a special display. We also have Perspex in front of P categories like threadworm to make products more visible to customers.Take part in awareness campaignsMake use of the back to school period and awareness days. Every year Wolverhampton PCT has a week's head lice awareness campaign, which we take part in, and this year we also got involved in a threadworm campaign sponsored by Pripsen.We put a table out in the pharmacy area featuring information on these conditions, and get all our staff together to make sure they're up to speed on what advice to give customers and on what current treatments are on offer. We have had good feedback from these awareness days and they have boosted sales.Educate parentsPharmacists are well-placed to educate parents on how to check for head lice and threadworms and on what treatments are available. Parents also need advice on preventing an infestation reoccuring.  Leaflets on display in the pharmacy also help inform customers about these conditions.Ensure staff are fully trained Head lice and worming are sensitive areas for customers so staff need to be fully trained on how to help. Staff need to be discreet, and should offer those customers who are uncomfortable talking about these conditions the opportunity to have a chat in a private consultation room.CPD   Reflect • Plan • Act • EvaluateTips for your CPD entry on head lice and wormingReflect     Are my patients getting the most         out of head lice and threadworm         treatment and management         products?Plan     Review my and my staff's         knowledge and sales protocolsAct     Read this article, revise head lice         and threadworm, review available        products and arrange training if        necessaryEvaluate    Do my patients get better advice        on treating and managing head         lice and threadworm?