C+D editor: 'Why we need to talk about pharmacist stress right now'
Read editor James Waldron's full speech from C+D and Pharmacist Support's parliamentary event yesterday to raise awareness of growing pressures on pharmacy teams
<![CDATA[
First of all I would like to thank Sir Kevin Barron MP for agreeing to sponsor this event, and for his continued work as a parliamentary champion for community pharmacy. You have been a vocal and energetic supporter of pharmacy teams in the House of Commons, and for that the sector is grateful.
At C+D, we've been monitoring stress levels among our readers for over a decade. The issue itself is nothing new – in 2013 we reported that nearly four in 10 pharmacists were seeking help for stress as a result of workload pressures.
But we have seen an explosion in reports of stress since then.
Of the almost 1,300 community pharmacists who responded to a C+D survey last year, 74% said they suffer from stress, the highest level we have ever seen. Of these pharmacists, 43% said they have trouble sleeping, 27% described themselves as having depression, and 11% said they were drinking more than usual. 
These statistics alone are shocking, so much so that the Royal Pharmaceutical Society was able to help us to get these figures in front of England's chief pharmaceutical officer in January.
Two factors that shine through in the feedback we receive from pharmacists is increasing workload and a belief that pharmacies are not always staffed to the level their teams feel comfortable with.
In fact, 72% of pharmacists who identified as stressed said their workload is often or always unrealistic, while 24% said staffing levels in their pharmacy are so low they consider it to be dangerous.
And it is probably no coincidence that 40% of stressed pharmacists said they have to self-check prescriptions every day.
These pressures are distributed across the sector, from independent contractors and locums to branch managers. And while we focused on pharmacists due to our larger sample size, pharmacy technicians and dispensers have rightly pointed out that they are also affected by these issues.
The impact of this stress is deeply troubling to us at C+D, and it is beyond the data – in the first-hand accounts that we receive – where it really hits home.
One pharmacist told us they had experienced panic attacks at work, another described hair loss as a result of stress on the job, and a third cited their work as the reason for their ongoing anxiety and hypertension. One respondent told us his GP had attributed his arrhythmia to stress, and another succinctly put it: "I am stressed and distressed, which is affecting my family life."
Of course, the toll isn't only on the personal lives of pharmacists, their teams and their loved ones. There is a real potential impact on patient care. It may come as no surprise that stress was the most oft-cited factor affecting the service pharmacists provide to patients according to C+D respondents. The National Pharmacy Association has also raised increased work pressures as a potential factor in reports of dispensing errors – and I think Ms Hannbeck will be sharing some insight into this in a moment.
While there are many contributing factors to rising stress levels – funding cuts in England, isolated working conditions, increasing dispensing volumes and changing demands on pharmacy teams and the wider NHS – there is no one, easy solution. As a publisher, I also feel it would be wrong of us to suggest answers. Instead, we wanted to bring the sector together to begin talking about this issue – and that's why it's encouraging to see so many of you in attendance today.
Pharmacists aren't the only healthcare professionals who are struggling. But unlike the pressures on GPs, for example – which have received coverage from the national media in recent months, and for which the NHS has set up a dedicated mental health service for doctors and dentists – the toll on pharmacists has often been suffered in silence.
We need to have a frank discussion of these issues, and raise awareness across the NHS, and among politicians, that many pharmacists and pharmacy staff are now struggling. My experience of pharmacy teams is that they are incredibly passionate, resourceful and resilient, but we risk eroding this vital workforce if we don't start to take action now.
That's why I hope you will make the most of the networking time after this session to discuss our findings, read the documents provided today, and join myself and Sir Kevin in pledging to back Pharmacist Support's 'Go Green' campaign.
And now I'd like to introduce Leyla Hannbeck, chief executive for the Association of Independent Multiple Pharmacies, to shed further light on the potential patient health impact of these workload pressures.
Thank you.
James Waldron is editor of C+D. Let him know how your pharmacy is coping in 2019 by tweeting him @CandDJamesW or emailing him at [email protected]
Images by Brendan Foster Photography
C+D takes pharmacy pressures to parliament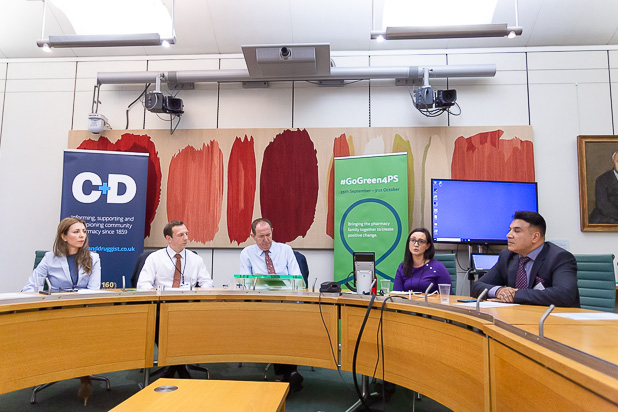 On Monday (September 9), C+D and the charity Pharmacist Support brought together MPs, pharmacy representatives and pharmacists to discuss the rise of stress and workplace pressures among pharmacy teams.
The parliamentary event took place in Portcullis House, Westminster, and was hosted by all-party pharmacy group chair Sir Kevin Barron MP.
If you would like to share your experiences, please email [email protected]
]]>