Behind-the-counter addiction
Pharmacists are used to helping patients with addiction, but what happens when the problem is on the other side of the dispensary?
Addiction is part of daily life for many pharmacists. Whether dispensing methadone, operating a smoking cessation service or promoting alcohol awareness, pharmacists inevitably come into contact with people who are struggling with substance dependency.
But it's not only patients who have to face up to their addictions – pharmacists aren't immune either. So how much of a problem is addiction in the profession? And does it mean the end of your career?
'Every case is unique'
As the first port of call for pharmacists struggling with any issue, charity Pharmacist Support has guided 199 pharmacists through their struggle with addiction over the past four years. The reasons for addiction are as varied as pharmacists themselves, says charity manager Diane Leicester-Hallam. "There don't appear to be any patterns when it comes to the causes," she explains. "Every case is unique. People's triggers can vary, as can their coping mechanisms."
Pharmacist Support has worked alongside specialist charity Action on Addiction to tailor its services to this demand. The latter's treatment and care director Kirby Gregory agrees addiction can affect pharmacists from all environments. "You can't predict who is going to become an addict," he explains. "The reasons people initially take drugs or drink to excess aren't the reasons they become addicted."
Pharmacists' duty to put their patients' needs before their own, combined with long working hours, can make them especially vulnerable to addiction, Mr Gregory warns. "All healthcare professionals have a huge workload. One of the things that gets squeezed out is finding the time to reflect and talk to other people," he says.
Work stresses and relationship problems can often act as the triggers that turn a habit into an addiction. "It's very seductive," Mr Gregory says. "People find they can short-circuit the worries and anxieties about life. But you're delaying the inevitable – it's all going to come crashing down at some point."
Alcohol to opioids

C+D's own Salary Survey hints at the scale of the problem. Last year, almost a tenth of the 1,024 employee pharmacists responding admitted they were drinking more than usual to cope with workplace pressure. But while heavy drinking or illegal drug use may be the usual suspects, addiction can also have more innocent beginnings.

David Reissner, head of healthcare at legal firm Charles Russell, remembers a

client who was taking opioid analgesics for their back problem. When the medication wasn't enough to block out the pain, the pharmacist began self-prescribing. It soon turned into a dependency. "You can see how easy it is for that to happen," Mr Reissner says. "For some people it might be cocaine or heroin, but it might just as easily be [a substance] in the pharmacy."




Ms Leicester-Hallam agrees dependencies can take many forms. "The majority of people who contact our helpline call because of alcohol and drug dependency," she says. "However, we also receive calls from people with eating disorders and gambling addictions," she adds.
Three warning signs of addiction
Absence from work

"It's a sign that often gets explained away for a long time before someone connects it with addiction."




Subtle changes

"If you're around someone who's gradually been changing, it's hard to notice. Most people who get to the point where they need help have been at it for six to 10 years."




Shift in priorities

"Addicted people will know their relationship with drugs or alcohol is their most important one and takes priority over everything." Kirby Gregory, treatment and care director, Action on Addiction
Taking action
Unfortunately, while it's easy to reassure yourself that a bad habit will never become an addiction, the sad fact is that most people don't take action to deal with their problem until they have no other choice. Whether it's the threat of dismissal at work or trouble at home, it often takes a catalyst to persuade an addict to seek help.
"Even people who make the decision to ask for help themselves are always under some kind of pressure," says Action on Addiction's Mr Gregory. "It may be external: their wife is going to leave them or their employers are going to sanction them. But it can just be that they feel so bad about themselves that they can't carry on."
If you're concerned that a colleague is displaying signs of addiction, Mr Gregory suggests broaching the subject with them. But be prepared for a level of hostility. "See what's wrong. If they're extremely defensive, it's usually because you've hit a nerve," he advises. "It's very difficult to talk to somebody with an addiction problem."
Pharmacist Support says it receives calls from concerned colleagues and relatives, who often feel "powerless and unsure how they can help". Ms Leicester-Hallam suggests arming yourself with information on the support options available before speaking to the individual.
One anonymous pharmacist tells C+D her partner struggled to comprehend the change in her behaviour while she secretly battled with alcoholism. "He couldn't understand what was going on," she recalls. "He had met this lively, energetic girl who could do anything she put her mind to. Suddenly he was faced with a needy person who couldn't cope with going outside on her own."
Luckily, she was able to turn to Pharmacist Support, who encouraged her to attend a treatment centre. It was her first step on the road to recovery and rehabilitation. "My six-week stay included a detox programme and counselling sessions," she remembers. "It helped me realise I wasn't on my own and I needed to reach out and ask for help."
Recognising the risks
As well as Pharmacist Support's confidential health support programme helpline, attending a support group meeting or even visiting a GP can all set an addict on the path to addressing their dependency. However pharmacists choose to deal with addiction, one thing they should never do is ignore it. Addictions rarely continue in isolation, and will inevitably affect an individual's behaviour. This not only increases the likelihood of a relapse, but also puts patients in danger.
If it leads to a fitness-to-practise case, the committee will take into account whether the pharmacist has sought help, says Andrea James, a senior associate at legal firm Shoosmiths. "Pharmacists cannot be removed from the register solely because of a health problem such as addiction," she explains. "However, many pharmacists with substance misuse problems also pick up convictions by driving under the influence or misappropriating drugs from the pharmacy."
Returning to work
The good news is that there is no reason a pharmacist can't successfully return to work after they have received treatment for their addiction. In fact, Mr Gregory says pharmacists often embrace this opportunity to rejuvenate their careers.
"Healthcare professionals have some real advantages over other recovering people," he explains. "If they have received treatment and go back to work, there's going to be some scrutiny. Most healthcare professionals I've spoken to really like that. They welcome the chance to demonstrate they are maintaining their recovery."
Shoosmiths' Ms James agrees there is "absolutely no reason" why you can't return to the pharmacy. "I have many clients – pharmacists, doctors, dentist and nurses – who have overcome very serious substance misuse problems and returned to work," she says. So, while pharmacists mustn't ignore the warning signs, addiction doesn't mean the end of the road for their career.
Case study '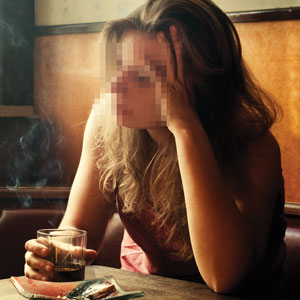 I was in such a state I couldn't function' An anonymous pharmacist tells C+D how she overcame her battle with addiction
"My addiction was with alcohol. Over the years, I turned to it as a way of escaping the reality of my life. I excelled at school, did well at university and had a great career working for a pharmacy multiple. But I was never really happy.
My addiction came to a head when various things happened at once: I was in a difficult relationship, struggling at work and supporting family members financially. I then had a health scare and an elderly relative had a very bad stroke. I took two weeks' annual leave and, one night before I was due back at work, I made an attempt on my own life.
I'm not sure what I was trying to achieve, except for everything to finally go away. My partner found me and called an ambulance. I was then signed off work for three months. This was probably the worst thing that could have happened, as I had a licence to do nothing all day except drink and sleep. However, at this point I still thought I didn't have a problem and that it was just anxiety or depression.
I attempted to return to work and couldn't – that was when I realised I was completely dependent on alcohol and needed help. I couldn't even get through a four-hour shift. I finally broke down and told my manager what was going on. I felt guilty for keeping it a secret, but at the same time I was in such denial that I couldn't bear to think about it.
I was working a shift and hadn't had a drink for a day or so, as I knew I had to drive to work. But halfway through I started to shake and feel sick. I took a short break and bought some wine to take the edge off the withdrawal symptoms. I returned to work but was asked to leave. My manager met me the next day and asked me to contact the General Pharmaceutical Council and to seek help. I felt truly lost and didn't know what to do.
I was in such a state that I couldn't function. I was still drinking, but by now that was all I could do. A pharmacist friend suggested that I contact Pharmacist Support. I phoned and left a message and then everything changed. I had a call a few days later and was offered advice. It was a lifeline for me.
I left the treatment centre sober, happy and able to see life for what it could be. I can honestly say this saved my life. The charity not only supported me to stay at the centre but also offered financial advice through my recovery.
I still speak to my case worker every few weeks and it's encouraging to have that ongoing support. Since I left the centre I have also been attending local meetings and following a 12-step programme, which has helped immensely.
I am now working again. I built myself up from part-time to full-time and hope to resume pharmacist duties soon."
Addiction special
Uncovering a hidden dependency