Transforming Boots branches: 'We just can't do what we've always done'
Two men behind the digital and in-store transformation of the health and beauty giant explain what the changes mean for stores and staff
It's no secret that funding pressures have taken their toll on the whole pharmacy sector in recent years. So when Boots announced last month that its operating profits had fallen by 22.3%, speculation was rife about what the UK's largest pharmacy chain would do next.
Just two weeks later, we had our answer. The 170-year-old business unveiled plans to revamp its beauty strategy and transform its pharmacy offering, including a free online prescription service via the Boots app and website, "express" collection lanes in 600 branches and trialling secure prescription lockers.
But beyond the press release, questions remained about the details of these developments. To get some answers, C+D sat down with pharmacy director Richard Bradley and director of pharmacy items and digital healthcare business lead Stephen Watkins to find out how each of the new developments would work in practice and what the transformation plans mean for their 2,485 Boots stores and circa 60,000 staff.
Prescription in two minutes

Perhaps the biggest in-store transformation across the multiple is the installation of "express" pick up lanes in 600 of Boots' largest branches, with a publicised "promise that customers can pick up their prescriptions in two minutes or less".
Mr Bradley explains to C+D that the two-minute timeline is "an internal ambition, really".
"If you're coming to collect something that is already ready, why wouldn't we have a goal of doing it on time for you? We should be able to do that. The capability is there."
It's about serving the same amount of people, in the same locations as before, Mr Bradley says, but making it an "easier experience" for those customers who want convenience.
No extra staff required
But couldn't this put extra pressure on staff? C+D asks.
Mr Watkins insists that this convenience shouldn't require any extra resource, as managing speedy prescription collections should be a "concurrent task" to the daily pharmacy service. The workload should in fact reduce, he suggests, as patients will only come to collect their prescription once they've received a text message to alert them it is ready. They will also be more accurately channelled to the service they require – rather than waiting around in unnecessary queues.
The option to speak to the pharmacist is still there, Mr Watkins (pictured below) stresses, especially as this is something that Boots' customers have said they value the most – the face-to-face care they receive from the pharmacy team. "But it is fundamentally for those looking for convenience and speed of service."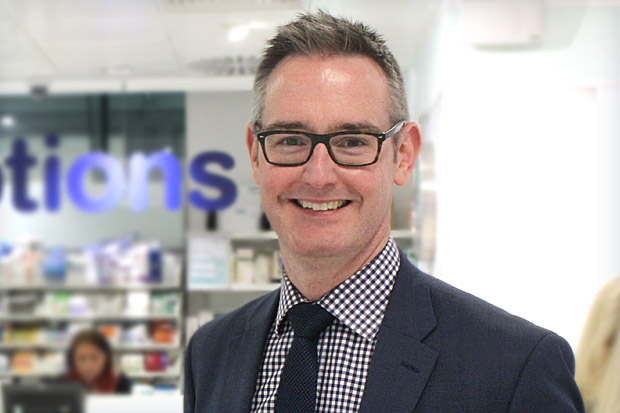 "Taking a pause" on rollout
The multiple is "taking a pause" on rolling out these express lanes to any further stores, despite a "definite positive response" from the initial cohort of 30 flagship Boots branches that trialled the model, and the rapid expansion to 600 pharmacies.
But Mr Bradley admits there are two limitations to rolling the model out further: the physical design of a store – it has to be able to support an extended counter and extra queue – and the size of its business, including number of patients and staff.
Express pick-up lanes might not be coming to a Boots village pharmacy any time soon, but the chosen 600 stores "represent a good chunk of the prescription business" and were selected based on their patient demographic, Mr Watkins explains. This will afford the multiple an accurate evaluation of the model in a few months' time.
Lockers inspired by the Netherlands
Taking inspiration from a model used in Boots pharmacies in the Netherlands, the multiple is also trialling secure prescription lockers in five stores in Manchester, London, Thornaby-on-Tees, Sheffield and Cambridge.
After an initial sign up to the service, the customer receives a text message with a unique PIN code when their repeat prescription is ready to be collected. They need the code and their date of birth to open the locker and must collect the prescription within four days, to prevent spoilage. Certain medicines are excluded from the service – including controlled drugs and medicines requiring temperature control – and once again, the pharmacist can flag to the patient if they want to talk about their prescription.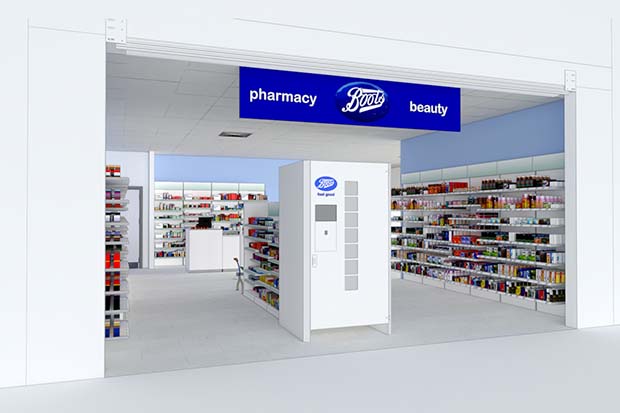 While the lockers should provide a "fast and easy pick up [option] for a certain cohort of the patient population", Mr Bradley stresses that it is very much a trial at this stage, with no immediate plans to introduce more lockers before a full evaluation is conducted.
"We need to decipher: Which patients respond? How does it work operationally for our teams? Let's put it in four shops and explore whether this is part of the solution to convenient pharmacy for the future."
With express lanes and lockers currently limited to a just small proportion of Boots' branches, C+D questions whether staff working in the pharmacies without these developments may feel a little neglected.
Mr Bradley is adamant that "every store is getting some form of the transformation".
A bespoke pharmacy management system will be installed in every pharmacy across the UK and help manage the branch's stock replenishment, patient records and compliance with EU scanning law the Falsified Medicines Directive, Mr Bradley explains.
This means "every single Boots store" will experience a "significant part" of its transformation strategy.
Repeat prescription app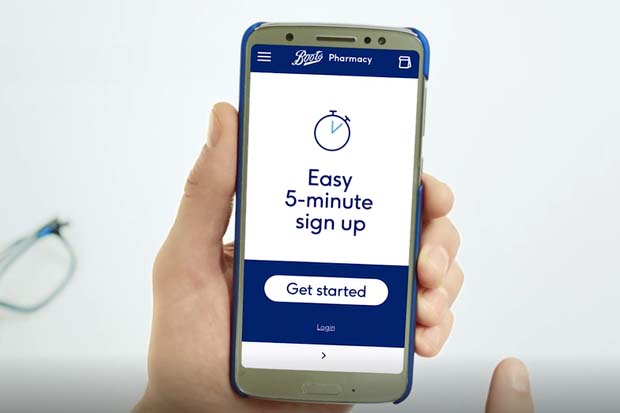 Many pharmacies already provide patients the ability to order and track their prescriptions via their smartphone – so you may be forgiven for thinking Boots is a little late to the party with its new app offering patients a repeat prescription service, via its newly acquired health technology company Wiggly-Amps.
However, the multiple has plans to develop the service further, and from July customers across Great Britain will be able to view their GP record, then order their repeat prescription and send to a Boots branch for dispensing.
Boots is "working alongside the NHS and the capabilities of the NHS App" – NHS England's smartphone app that allows patients to book GP appointments, order repeat prescriptions and view their medical record. "This way, our patients can get access to their patient medication record and be able to order from that," Mr Watkins explains.
"We'll have access to three of the four main GP providers – representing 99% of the GP network, and the app will feed directly into the GP workflow," he adds.
Boots' GP pioneer
As well as collaborating with NHS Digital and NHS England to develop the service, the multiple has also partnered with a GP in Norfolk to test the app's functionality – making sure it works from their point of view too.
"We do work separately with GPs on how to develop the system, but we work with NHS Digital to say: 'What are the things coming down in future? Here is where our app is going. Is that heading in the right direction?'," Mr Watkins explains.
In a separate piece of work, Boots is also working with an academic "to evaluate what benefits the app brings to GPs and pharmacy, and the NHS, so we can start to look at improving that", he adds.
This is "stage one" of improving patient experience and their ability to order prescriptions, Mr Watkins says. "We need to make sure we look at our total intention and then continue to make improvements as we go."
Helping develop the profession
The multiple has rolled out a "whole suite of training" for Boots staff on the new app, as well as those affected by the in-store transformations, Mr Watkins says.
Some Boots pharmacists were involved in developing the new systems, and one even appears in a national TV advert to help promote the multiple's digital transformation.
Both Mr Bradley and Mr Watkins seem confident in Boots' new direction and believe the multiple should be "an exciting place to be a healthcare professional over the next few years".
For Mr Bradley, one thing is for certain: "We can't just do exactly what we have always done."