COVID-19: The pharmacy losing money from dispensing sertraline
One pharmacy in Manchester has been dispensing sertraline at a "massive loss" since the outbreak of COVID-19
Pharmacies across the UK have been handling an unprecedented surge in demand during the COVID-19 outbreak. At Windmill Pharmacy in Denton, Greater Manchester, staff are emerging from an overwhelming few weeks, contractor Mohammed Faisal Din tells C+D.
"The main thing that we've had to deal with is the panic," says Mr Din. "People have been wanting their prescriptions early and bulk buying."
Windmill Pharmacy's delivery service has seen a boom in demand of up to nine times the usual daily requirement. They normally complete between 10 and 15 deliveries a day but some days in March they were doing 90. "We've been a bit overwhelmed," Mr Din says, although the requests have since calmed down.
Inhaler shortages
The worst part of the pandemic for Windmill Pharmacy's patients has been stock shortages, Mr Din says.
The pharmacy team have struggled to get hold of many medicines, especially ones related to respiratory conditions. Drugs it could not get over the last few weeks include prednisolone steroid tablets, Fostair inhalers, and hormone replacement therapy (HRT) treatment.
Mr Din says Clenil inhalers in 50, 100 and 200 mcg strengths were unavailable from the end of March until early April. "People are panicking because this virus affects your lungs," he says.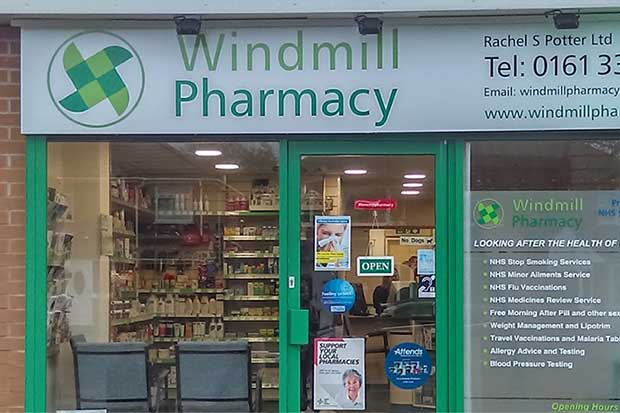 "A massive loss"
The pharmacy has been forced to dispense at a loss on some items, only adding to their problems. The drug tariff price for one 28-tablet box of sertraline 100mg is £1.55, but Mr Din says he has been charged £14.99 for each pack by some wholesalers. "That's a massive loss," he says.
Other unprofitable drugs include the pharmacy's "bread and butter" medicines like aspirin dispersible 75mg tablets and paracetamol, Mr Din says.
The losses were offset slightly by the surge in demand from patients for over-the-counter items in the first few weeks of the crisis, but that has since trickled away, Mr Din continues.
He wants more support with this issue from the government. Wholesalers are "allowed to charge whatever they want", he says. Mr Din says he has repeatedly seen hikes during the COVID-19 outbreak and would like to see healthcare authorities put more pressure on wholesalers to keep prices reasonable.
"Who is responsible?"
The pressure on pharmacy teams can be exacerbated by staff members having to self-isolate because they suspect they may have symptoms of COVID-19. As with other parts of the healthcare system, this problem would be alleviated by testing to determine who has the virus.
The Pharmaceutical Services Negotiating Committee (PSNC) said in March that pharmacy teams in England would be tested for COVID-19 for free if they are showing symptoms, but the tests have yet to materialise.
Windmill Pharmacy has taken an innovative approach to staffing in a bid to avoid closing due to absences. It's split the team in two, with Mr Din heading up one group and his co-owner Rachel Potter the other. If one gets infected with COVID-19 there will still be enough staff to open the pharmacy.
"It's a bit intense because you've not got the full staffing, but it means you've got backup. Some staff have been off ill, but we've not been able to test if they have COVID-19, which is a bit of a worry," Mr Din says.
"We're only human"
The plight of pharmacy has not gone unnoticed, but professionals say more needs to be done. The government announced that £300 million of "advance funding" would be made available to community pharmacy in England – although this is will need to be paid back at a later date. Steps to ease the demand for medicines deliveries have been taken through a national deliveries service and help from NHS volunteers.
However, pharmacy professionals are still calling for the government to support the sector directly with new funding to cover the rising costs COVID-19 is bringing.
In the meantime, Mr Din says continuing is a struggle, but the team carries on because they must. "We are obviously trying our best to help all the patients that we can, but we're only human and we can only do what we physically can do," he says.
"It's always in the back of your mind – have I provided the right medicine? That's the way it is."