The pharmacy COVID lateral flow device distribution service explained
A pharmacy lateral flow device distribution service has been launched in England. C+D unpacks what the Pharmacy Collect service entails.
UPDATE: On September 10, the Pharmaceutical Services Negotiating Committee (PSNC) confirmed details of a revised Pharmacy Collect service in England from October 4. Under the new service specification, people will need to register to get a 16-digit code to collect lateral flow device test kits and pharmacies will receive £1.70 plus VAT per transaction.
Read more details on the revised service in C+D's news story here.
The NHS community pharmacy COVID-19 lateral flow device distribution service – Pharmacy Collect – allows asymptomatic patients to collect testing kits free of charge from their local pharmacy, the Pharmaceutical Services Negotiating Committee (PSNC) said when launching the service on March 29.
Public promotion of the service began five days later to allow contractors to "undertake the necessary preparations" to deliver the service, PSNC said. The service will be reviewed at the end of June 2021.
A lateral flow test involves a patient swabbing their tonsils and the inside of their nose at home. It can give a result in 30 minutes as it does not need to be sent to a lab, unlike the polymerase chain reaction (PCR) test, which is primarily for patients with COVID-19 symptoms.
What does Pharmacy Collect entail, how is it funded and how can pharmacies get involved? Click on the bullet points below to jump to the relevant section.
What is Pharmacy Collect?
The advanced service has been added to the five-year pharmacy contract for England. Once signed up, pharmacies can offer patients lateral flow testing kits free of charge, to be self-administered away from the pharmacy.
Pharmacy teams are not involved in the next steps of the test such as getting and registering the results. "Tests must be conducted away from the pharmacy," PSNC says. Patients can phone 119 for assistance with the test.
Broadening asymptomatic testing is an "essential part of the nation's fight against COVID-19", and part of the government's COVID-19 roadmap, PSNC says.
The Pharmacy Collect service specification says research by NHS Test and Trace shows that participants prefer to access testing in the community. "Pharmacists are trusted by their local communities and unfamiliar new points of access are less trusted," the service specification document says.
Who can use Pharmacy Collect?
Pharmacy Collect is for asymptomatic patients seeking to take regular COVID-19 tests in England. There is no minimum age for using the lateral flow device kits, but the recommended age for those collecting them is 18 years. Pharmacists can use their professional judgement on whether to supply younger people where necessary, the negotiator says.
PSNC anticipates the most common circumstances that will prompt a person to undertake regular tests are:
They are a child at school or are in a bubble with school children
They work at a school or are in a bubble with school staff
They have to leave the house for work
Their local council has advised them to take a test
A healthcare professional has advised them to take a test.
Pharmacies are advised to supply to any individual who asks and answers the required questions (see below).
The government said on Monday (April 5) that everyone in England should be given access to two free COVID-19 tests a week.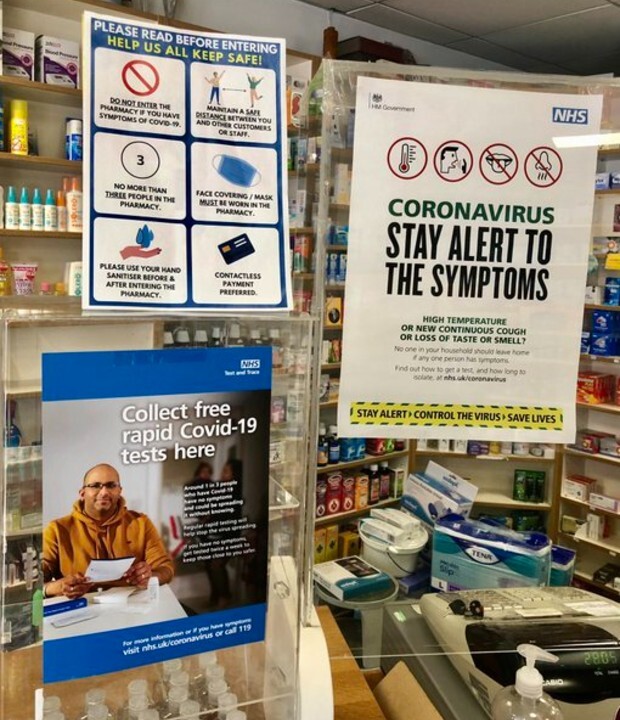 Initial ordering limits
Pharmacy teams can supply one box – each containing seven tests – per individual and up to four boxes can be provided in one transaction, PSNC says. The box of seven tests allows the individual to perform twice-weekly tests over a three-week period, allowing for one void test.
There is an initial order limit of one carton – 54 boxes – per pharmacy, per day, to support the equitable distribution of stock.
Test kits can be ordered free of charge from Alliance Healthcare* using the following details:
Alliance Healthcare – Product name DHSC Innova COV19 Rapidtest(7) (DHSC COVID-19 test kits) PIP: 8943037
An online NHS map will show sites where patients can acquire lateral flow tests, PSNC says. Pharmacies will automatically be added to the map the week after contractors have signed up to provide the service via the NHS Business Services Authority (NHS BSA) Manage Your Service portal (MYS), PSNC continues. All the online details of participating pharmacies will be managed by the NHS Test and Trace team.
If a pharmacy runs out of test kits, contractors can update their status on the online NHS map by emailing [email protected].
Pharmacies must make a note of the following details when they receive test kit stock from the wholesaler: Lot number; quantity of cartons; supplying wholesaler; and date of receipt. Download the formfrom the PSNC website.
3 questions to ask
Pharmacy staff are required to ask three questions before distributing the lateral flow device kits, PSNC says (see question sheet):
Have you collected lateral flow device test kits before?
Why do you need tests?
What is the age range of the person using the kit?
If the reason the person is collecting the test kit is not among those listed above, then pharmacy staff should select 'Other' and record the reason why the person is requesting the supply.
Answers to questions two and three must be entered into the NHS BSA MYS portal by closing time on the pharmacy's last trading day of the week. NHS BSA will base its service payments on these weekly submissions.
Pharmacy staff should also ensure that people collecting the kits understand some essential information, including the importance of reporting their positive or negative results using instructions in the test box.
£450 for early birds
While the service is part of the five-year pharmacy contract, it is funded by NHS Test and Trace and not from the overall global sum.
Pharmacies that sign up to the service before the end of April 18 will receive a £200 "early sign-up fee" plus VAT. Contractors will then receive a one-off set-up fee of £250 to cover the costs of creating a new standard operating procedure, training staff and storing the test kits.
A service fee of £1.50 plus an allowance for VAT will be paid per transaction*.
The NHS BSA will calculate payments, which will be sent alongside money for other services, based on contractors' weekly submissions made via the MYS portal.
How do pharmacies sign up?
Contractors can sign up to provide the service by completing the service declaration on the MYS portal. They should then develop a standard operating procedure and ensure all pharmacy staff are up to speed on the service requirements.
Those contractors that have signed up to the service will receive a pack of promotional materials, including three posters and a leaflet. Additional materials are available on Public Health England's campaign resource centre including extra posters translated into 13 languages.
Read the service specification in full and FAQs on the PSNC website.
*This article was amended on April 12 to clarify the £1.50 service fee is per transaction, not per test kit distributed.
*Both Sigma Pharmaceuticals and Phoenix Healthcare Distribution stopped supplying test kits for the Pharmacy Collect service from July 2021