Pharmacy bodies petition Prime Minister to stop funding cuts
Pharmacy bodies are appealing directly to the Prime Minister to "abandon" the government's planned cut to pharmacy funding.
The National Pharmacy Association (NPA), Pharmacy Voice and the Pharmaceutical Services Negotiating Committee launched a paper petition yesterday (February 18), urging David Cameron to reverse the planned 6% cut to pharmacy funding in England.
The cuts will close pharmacies, depriving patients of medicines advice and putting more pressure on GPs and hospitals, the organisations claimed.
They urged pharmacists to print the petition, gather signatures, and sent a copy back to the NPA via fax or post. The NPA will then take these responses "to the heart of government", they said.
The petition will "complement" the existing online petition on the cuts, signed by more than 42,000 people, the organisations said. The bodies launched the petition on paper, rather than online, because "for many people, including elderly patients, this is the preferred way to express their support".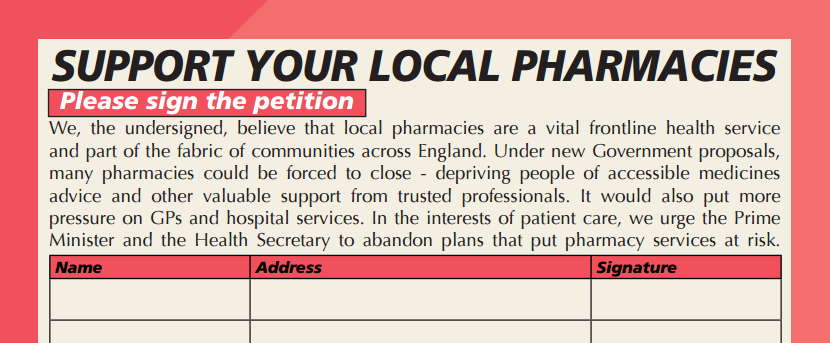 The bodies have also printed 100,000 campaign postcards, which patients should send to their local MP to raise awareness of the cuts, they said.
NPA chairman Ian Strachan said the petition will "intensify efforts" to fight the  government's "jumbled and misguided proposals".
Pharmacy Voice chief executive Rob Darracott said the petition provides the "perfect opportunity" to "push back" against "harmful and dangerous cuts".
Download the petition HERE.
More news on the funding cuts...
Insider's view: Pharmacy bodies responding to the cuts
RPS: Funding cuts out of Alistair Burt's hands
Kirit Patel: Government won't back down on funding cut



What do you think of the petition?
We want to hear your views, but please express them in the spirit of a constructive, professional debate. For more information about what this means, please click here to see our community principles and information