EXCLUSIVE
Nearly four in 10 readers face problems with the electronic prescription service (EPS) on a daily basis, a C+D poll has revealed.
Thirty-eight per cent of 255 respondents to the poll, which ran on the C+D website from June 10 to 17, said they experienced issues with EPS at least once a day.
A further 30 per cent of readers said they struggled with the service at least once a week, and 17 per cent said they encountered a problem between one and three times a month, the poll revealed.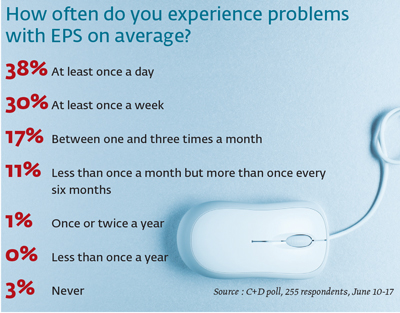 Martin Jones, commercial manager of EPS systems provider Positive Solutions, told C+D the company was "surprised" by the poll results.
"Most of our EPS issues are around smart cards expiring and people forgetting their passwords," Mr Jones. "We don't have a lot of issues otherwise."
But contractor Kieran Eason of Eason's Pharmacy in Tamworth told C+D that readers' reports of daily EPS issues sounded "quite normal". A "large chunk" of the issues related to "messages not coming back correctly" from central NHS IT system the spine, he stressed.
"We have problems most days. Every time something goes wrong, we can't fix it ourselves – we have to ring the PMR provider," he said.
Mr Eason said that one error a week would be "more manageable", although this was "still quite a lot". "One error a month and we would be happy," he added.
Unreliable service
Pharmacy Voice reported earlier this month that there had been "two unplanned [EPS] outages of a couple of hours each" in May, which was "well below the desirable level of reliability".
Pharmacy Voice national IT lead John Palmer said C+D's findings reflected poorly on EPS, but it was difficult to provide further analysis of the problems without knowing their "duration, severity and causes".
"EPS relies on a number of organisations and each section of the pipeline needs to work for prescriptions to flow," he told C+D. "Organisations do take any problems seriously and over time – with appropriate resources – reliability will be driven up."
Pharmacy Voice was working with other organisations to "define service levels and ensure appropriate agreements were in place", Mr Palmer added.



What EPS problems do you most commonly experience?
We want to hear your views, but please express them in the spirit of a constructive, professional debate. For more information about what this means, please click here to see our community principles and information