EXCLUSIVE
Three quarters of pharmacists from businesses who took on a pre-registration trainee in 2014-15 were pleased with their quality, the C+D Salary Survey 2016 has revealed.
Seventy-five per cent of 117 branch manager, non-manager community pharmacist and contractor respondents to the survey – conducted between October 17 and December 21 last year – said they were 'satisfied' or 'very satisfied' with the quality of their pre-reg.
Pre-registration tutor Altaf Vaiya told C+D the results are "valid" because in his experience, most pre-registration students are "quite knowledgeable…and they've got something to give".
Pre-registration student Zohib Sheikh said this year's cohort of pre-registration students are also "pretty strong". His university had put lots of emphasis on gaining pharmacy experience before the training year, which plays the "biggest part" in being ready for the challenge, he said.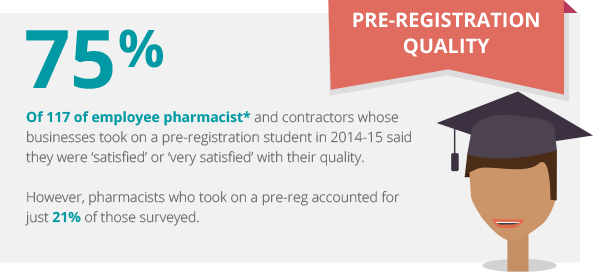 One in five
However, businesses who took on a pre-reg trainee accounted for just one in five (21%) of respondents to the survey.
Mr Sheikh told C+D that more pharmacies should take on trainees because competent students can be a "godsend" to businesses. But he admitted that incompetent students could be a "burden" to employers.
Mr Vaiya said he knew of several busineeses who would "love" to take on a pre-registration student, but could not find anyone available.
Last year, two thirds (68%) of respondents to a C+D straw poll said they had noticed a drop in the "average skills and knowledge" of pre-registration students slipping over the past five years. The poll was published in response to last year's June registration exam pass rate – the lowest in six years.
This year's pre-reg trainees can pick up tips on working as a newly-qualified pharmacist in C+D's podcast, below.



Has your experience of pre-reg students changed in recent years?
We want to hear your views, but please express them in the spirit of a constructive, professional debate. For more information about what this means, please click here to see our community principles and information