Pharmacists may have to endure another year of cuts to NHS services while commissioners settle into their roles in the reformed health services, LPCs have warned.
LPC representatives Ash Pandya and Hiten Patel said that pharmacists should expect another "small decrease" in services over the next year, in response to NHS data that revealed that the number of local enhanced services had dropped for the second year in a row.
PCTs cut up to 800 local enhanced services across England's community pharmacies between April 2012 and March 2013 – a drop of 2.7 per cent, according to data published by the Health and Social Care Information Centre (HSCIC) last week (November 20). It was the second year of cuts to services in a row, following a steady rise since 2005.
But he said that it could take up to 18 months before GPs increased the number of services they commissioned from pharmacy, he told C+D. "Eventually there will be some collaborative working, when GPs finally realise they can't do it all themselves," he added.
Ealing, Hammersmith and Hounslow LPC chairman Hiten Patel said pharmacists should not be "relaxed in the assumption" that pharmacy services would recover next year and needed to continue to engage with commissioners.
PSNC said it was "disappointing and worrying" to see the number of pharmacy services in decline, but the data was not a "useful indicator of the present situation".
"It is difficult to draw any firm conclusions from this data because it was collected from PCTs at a time of great change as they prepared to be dissolved," said PSNC head of NHS services Alastair Buxton.
Number of local enhanced services provided by community pharmacy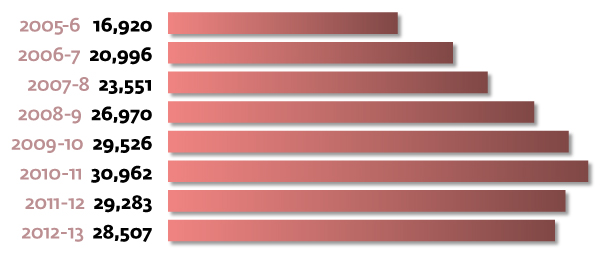 The drop in commissioning levels could have been the result of uncertainty among PCTs ahead of the introduction of the new commissioning system in April 2013, the HSCIC said in its report.
The annual number of prescription items dispensed by community pharmacies in England rose by 3.3 per cent to 914.3 million in 2012-13, and 259 community pharmacies were added to the PCT pharmaceutical list last year, said the HSCIC.
Community pharmacy also delivered a record number of MURs, with 2.8 million conducted in 2012-13, a rise of 15.9 per cent on the previous year. The average number of MURs provided by each pharmacy that offered the service increased from 239 to 267.