The current pharmacy model and contract "is based on quantity of prescriptions, rather than a quality-based model", the National Assembly's Public Accounts Committee said in a report published yesterday (March 20).
This potentially creates a "perverse incentive for pharmacists to prescribe" and "does not encourage pharmacists to consider whether it is necessary to dispense a prescription", the committee said.
The committee is "concerned" that the current model – "based around independent private contractors" – "results in different sets of professional vested interests who have to consider financial aspects rather than patient needs".
This is "potentially creating conflict between GPs and pharmacists as to who would be responsible for delivering services".
Medication-related hospital admissions
Amending the contract is just one of 17 recommendations from the committee's report, which looked at the "issue of medicines management" in Wales, after a 46% increase in the number of items dispensed in communities over 10 years.
According to evidence given to the committee, up to 50% of hospital admissions could be medication-related. These could be attributed to prescribing errors but are "more likely" patients taking the wrong dosage, it said.
"Incidents of medication-related admissions are not recorded so there is no way of establishing the true size of the issue," the committee stressed.
Committee chair Nick Ramsay said: "The issue of medicines management is one which is relevant to everybody, from GPs, medical staff in hospitals, and pharmacists, to patients.
"We all have a responsibility to ensure that medicines are not wasted or dispensed unnecessarily."
"Despite the Welsh government support for greater use of pharmacists in primary care, this is not being realised," he added.
According to the report, Wales's chief pharmaceutical officer Andrew Evans told the committee that 1,000 consultations a month are taking place with pharmacists. This is "nowhere near enough to achieve real system change", Mr Ramsay said.
Review cluster pharmacist model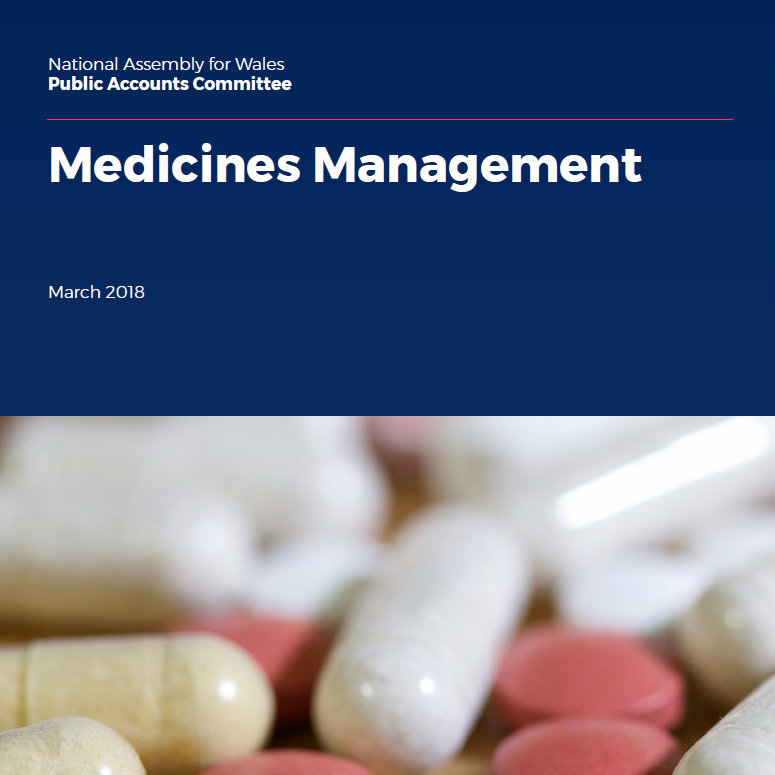 The committee also recommended the Welsh government "evaluates the funding model and recruitment model for pharmacists" working across a number of GP practices, or "primary care clusters".
Royal Pharmaceutical Society Wales director Mair Davies told C+D she is "pleased" the committee has called for an evaluation of the cluster pharmacist role.
"While feedback on this role from patients and other health professionals has been extremely positive, no formal evaluation of the role on a significant scale has been undertaken.
"In order to justify a sustainable long-term funding for [cluster pharmacists] and to reassure patients, GPs and the pharmacists themselves of the long-term security of the role, a large-scale evaluation is needed," she added.
Other recommendations on medicines management
The committee said it was "surprised at the lack of available information about the actual number of pharmacists practising in Wales" and a lack of "training plan for pharmacists, given the importance that has been placed on their developing role".
It recommended a "data management system to track the number of pharmacists working in Wales and the roles being undertaken" and help "plan training needs and requirements".
It also suggested the Welsh government "identify whether any lessons could be learned from NHS England relating to guidance on items which should not be usually prescribed", and produce a report on repeat prescription ordering within care homes.
The committee's findings and recommendations will now be considered by the Welsh government, the committee said.
NHS England: 3.4% investment in GP contract
Yesterday, NHS England announced that GPs across England will see their funding rise to £256.3 million for 2018-19. Read the commissioner's letter announcing the changes here.