The General Pharmaceutical Council (GPhC) has released the pre-registration pass rates for the 11 largest community pharmacy training providers in Great Britain.
English chain Kamsons Pharmacy topped the list of providers with 12 or more trainees who sat June's registration exam, with 100% of its 15 students passing, according to the GPhC. Well came second, with 21 of its 24 trainees passing – 88% – and Superdrug followed with 85%.
The two largest multiples, Boots and Lloydspharmacy, had pass rates of 80% and 73% respectively.
Kamsons Pharmacy put its success down to a "holistic training programme, a love of patients and good peer support", it told C+D.
Pillbox Chemists Ltd had lowest pass rate, with only seven of its 13 students – 54% – passing the exam, according to the GPhC data. But the company disputed the figure, and told C+D that eight students had passed, giving them a pass rate of 62%.
It criticised the GPhC for publishing the data "without any context". "A snapshot of these results is misrepresentative of the true facts of both our programme as well as pre-registration training as a whole," it said.
The GPhC told C+D it stood by the figures, which it published in response to a request from a registrant, but said it is "more than happy" to discuss them directly with the company.
Day Lewis – which came second from last with 59% – also disputed the GPhC's data.
The information "doesn't correctly represent our overall pass rate", said chief executive officer Kirit Patel. Including "the subsidiaries and associated companies of the Day Lewis group", 68% of students passed, he stressed.
"We take the third largest number of pre-reg students – we do not cherry pick," Mr Patel said. The company has introduced "additional coaching and support" for any students that fail the exam, he added.
"Flawed" exam
Khalid Khan, pre-registration co-ordinator of Imaan Ltd – which came third from bottom with 64%* – told C+D that this year's assessment was "flawed", as shown by the lowest overall pass rate for five years.
*Imaan Ltd has since provided convincing evidence to C+D to show its overall pass rate was in fact 74%
"The GPhC is changing the assessment process, and it's a step in the right direction. I'm quite optimistic for the process in the future," he added.
In total, the 11 pharmacy businesses had an average pass rate of 75%. Community pharmacies with less than 12 trainees fared worse than the larger companies, with just 69% of pre-regs passing their registration exam, the GPhC said.
Hospital trusts did better than their community counterparts overall. Those with 12 or more trainees had a 91% average pass rate, and those with fewer than 12 had a pass rate of 90%.
See the full results in the table below.
Pass rates shown for community pharmacy providers with more than 12 trainees who trained with them exclusively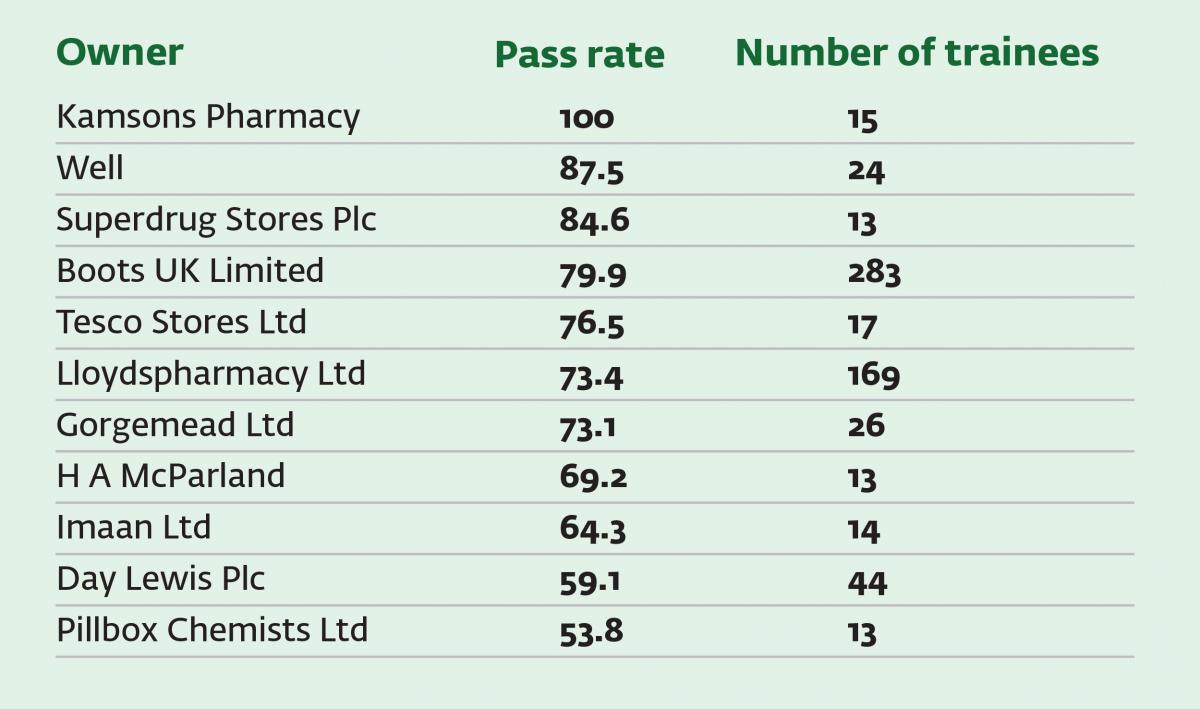 Source: The GPhC, October 15, 2015. Please note that Imaan Ltd has since provided convincing evidence to C+D to show its overall pass rate was in fact 74%, not 64%