England's chief pharmaceutical officer Keith Ridge announced the plans last Friday (April 27), claiming the move would "change how the public sees medication safety".
Following on from Jeremy Hunt's focus on tackling medicines errors in February, Dr Ridge said he and the health and social care secretary want to put "transparency…more on the agenda in terms of medication safety".
In his keynote address at the Clinical Pharmacy Congress in London, Dr Ridge told the audience: "At some point – hopefully in the not-too-distant future, we will be commissioning some metrics around this."
"For the first time" community pharmacy reimbursement data and "hospital episode statistics data" will be analysed together, "to see what is bringing people into hospitals, in relation to medication issues", he explained.
A "comprehensive overview"
The analysis will initially focus on gastrointestinal bleeds, before a "further development of a broader selection of [prescribing] indicators to develop a more comprehensive overview", according to Dr Ridge's slides (see below).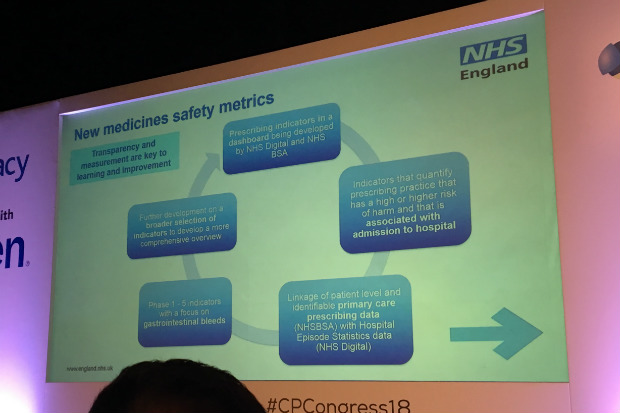 The prescribing indicators will then be displayed in a dashboard being developed by NHS Digital and the NHS Business Services Authority, and "won't be hidden away somewhere", Dr Ridge stressed.
Instead, it is "likely to be right in the middle of normal routine NHS statistics", such as hospital waiting times, he added.