EXCLUSIVE
A Royal Pharmaceutical Society (RPS) representative has backed charging patients for GP consultations to replace the "unsustainable" prescription fee system.
Patients sometimes went to GPs for "frivolous" reasons and charging a consultation fee of as little as £1 could reduce unnecessary appointments and increase self-care, said Sid Dajani, a member of the RPS English Pharmacy Board.
Although the "corrupt" fees system was "well past its expiry date" and should be abolished, patients would need to be charged for their healthcare "at some point down the line", he told a C+D webinar on prescription charges, sponsored by Actavis, on Monday (March 23). The RPS is a member of the Prescription Charges Coalition, which campaigns to abolish script fees for patients with long-term conditions.
A poll conducted by C+D showed that 17 per cent of readers agreed with Mr Dajani that charging for GP consultations was the best way for the NHS to solve its funding problems (see graph below).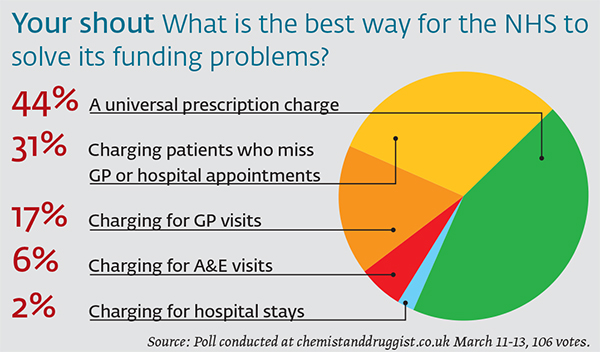 Forty-four per cent of 106 respondents to the poll, which ran from March 11 to 13, backed a universal prescription charge, while 31 per cent supported charging patients who missed a GP or hospital appointment.
But Tania Francis, partner at health and social care law firm Hempsons, questioned imposing a fee for GP visits. "Why would it be less harmful to pay for a consultation rather than medicines? Is this not just moving the barrier for those who can't afford to [pay] one step before [a pharmacy]?" she told the webinar.
NPA board member and contractor Nick Kaye said he was also unconvinced by the argument for charging for appointments. The NHS could save money and reduce hospital stays by ensuring patients had better access to the right medication once prescription charges were abolished, he argued.
Fellow delegate and Numark pharmacy services director Mimi Lau called on pharmacists to lobby politicians to overturn the "archaic" prescription charges system. However, she admitted there may be little "political appetite" to do so in the run-up to May's general election.






How else could the NHS save money?
We want to hear your views, but please express them in the spirit of a constructive, professional debate. For more information about what this means, please click here to see our community principles and information