Every print issue of C+D will be available to view free online this year, as part of a groundbreaking plan to digitalise the magazine's 155-year history.
The project, which was launched by charity Wellcome Trust in December, will involve scanning around 6,500 issues of the magazine dating between its launch in 1859 by the Morgan brothers (pictured right) and 2010.
A team of about 30 people in the UK, Germany and the US is archiving each issue and the charity expected all 500,000 pages to be uploaded by the summer, it said.
The digitised issues, which will be available on the C+D website as well as Wellcome Trust's online library, would be a "valuable resource" for pharmacists, academics, historians and social scientists, said Wellcome Trust head of collection management and operations Zineta Sabovic.
C+D brand director Gary Paragpuri said the announcement was a "terrific confirmation" of the importance of C+D's journalism and the archive promised to be a "hugely valuable" resource for researchers.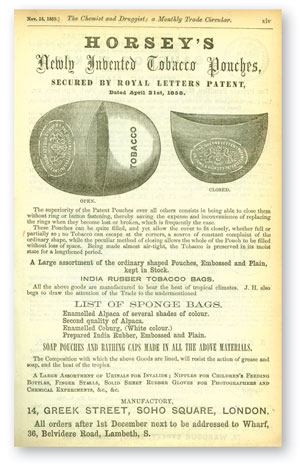 "When Septimus Vaughan Morgan had his eureka moment to launch a trade journal for chemists and druggists in 1859, I doubt he thought it would become so popular that 155 years later one of the world's largest charities would choose it as its first major digitisation project," he said.
Wellcome Trust's library is one of the world's major resources for the study of medical history. The library is currently selecting material to digitise, based on its potential interest to audiences.
C+D celebrated its 150th birthday in September 2009. The first issue of the journal tackled a diverse range of topics, including a foiled mail robbery and advice on how to make "good blue ink".
Left: An early example of an advert in C+D