How Northern Ireland's pharmacies vaccinated a nation
Northern Ireland's Medicines Optimisation and Innovation Centre shares what it has learned from pharmacists during the first two months of offering COVID-19 vaccinations
In late March, around 350 of Northern Ireland's 531 community pharmacies began giving COVID-19 vaccinations. Alongside mass vaccination centres and general practice, in two short months they had helped vaccinate more than one million people in Northern Ireland.
Given that the approval for the first vaccine to be used in the UK was only granted six months ago, this is an impressive achievement.
However, the road to one million vaccinated and beyond has been far from easy and relied entirely on the work and dedication of many skilled professionals and volunteers – all doing so under challenging restrictions aimed at slowing the spread of COVID-19.  
The Medicines Optimisation and Innovation Centre (MOIC) has been closely following pharmacy's role in the COVID-19 vaccination programme, talking to individuals involved about what challenges they faced and what they have learned from vaccinating a nation. This is what we have discovered.
The lie of the land
The COVID-19 vaccines currently being used have already taken the record for the fastest to ever be developed – from mapping of the virus's genetic sequence in early 2020 to the Medicines and Healthcare products Regulatory Agency (MHRA) approving the Pfizer/BioNTech jab for use on December 2.
Equally fast was how quickly the healthcare system was able to roll the vaccine out nationwide. In Northern Ireland, the most vulnerable were inoculated from early December, followed by descending age groups (see Timeline, below).
With supplies of the Oxford/AstraZeneca vaccine arriving on January 4, over two thirds of Northern Ireland's pharmacies are now involved, with more pharmacists involved in procurement and mass vaccination centres.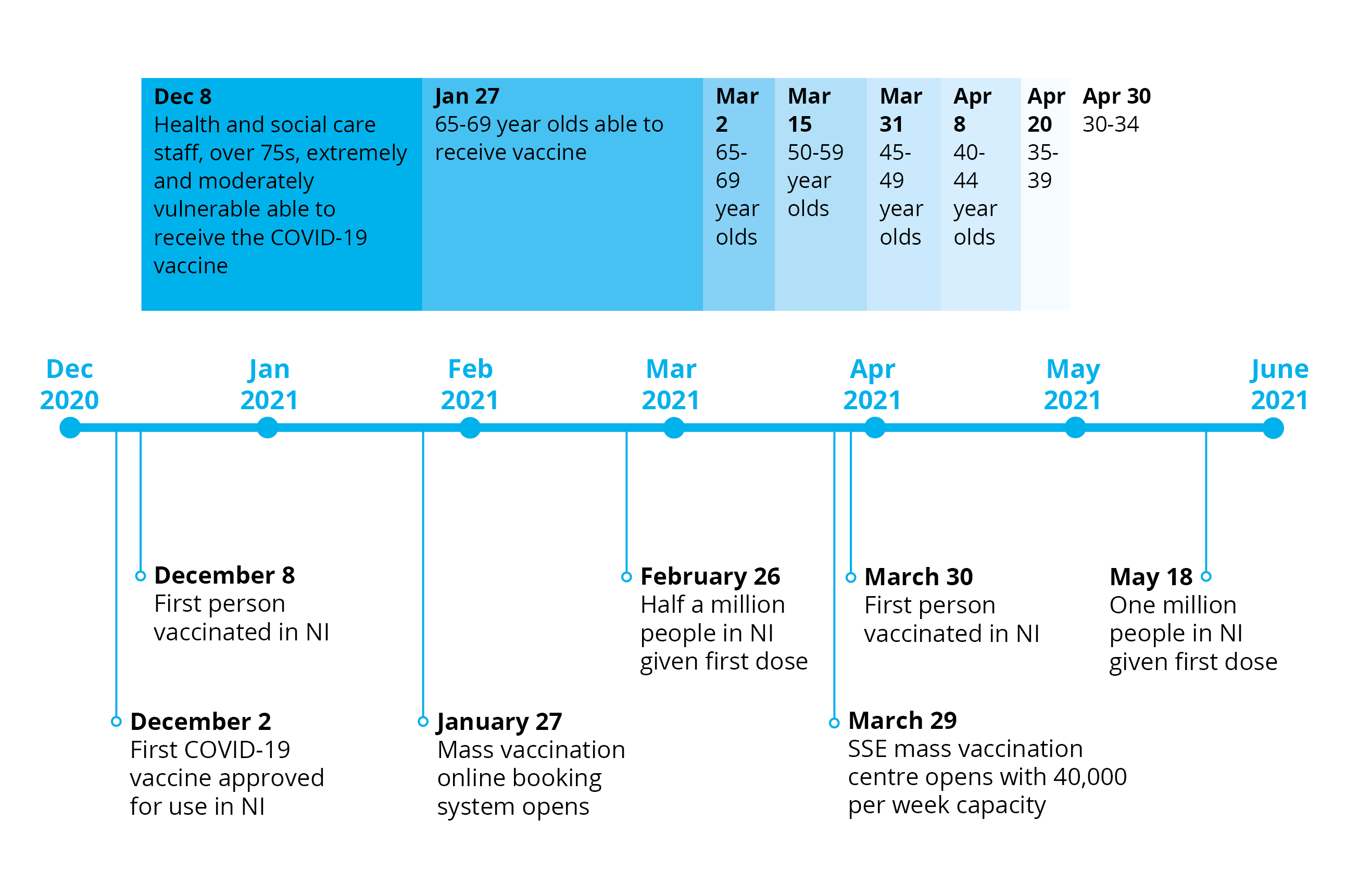 On the ground
Setting up a mass vaccination centre was probably not something that Jill Macintyre ever expected she'd have to do as of head of pharmacy and medicines management at the South Eastern Health and Social Care Trust (SEHSCT).
However, she and the heads of pharmacy from the other four health and social care trusts in Northern Ireland rapidly became responsible for ensuring that the mass vaccination centres in their trust areas operated safely. Things for Ms Macintyre stepped up again when the SEHSCT was asked to set up and run the Greater Belfast Mass Vaccination Centre in tandem with its existing mass vaccination centre.
Based at Belfast's SSE Arena, operations were scaled up to provide capacity for 40,000 vaccines a week, requiring liaison with organisations outside of the NHS, including the SSE Arena, Harbour Police and local emergency response teams.
"Facilities had to be safe and as close to that of a hospital pharmacy as practically possible," explains Ms Macintyre. "Training and standard operating procedures [SOPs] needed to be in place and vaccines needed to be prepared under the appropriate supervision of a pharmacist," she adds.
"We did not have a blueprint to work from," says Stephen Curran, lead pharmacist for COVID-19 vaccination at the Belfast Health and Social Care Trust. "A mass vaccination programme on this scale has not happened before, so there were unexpected issues that would come up that required creative thinking to sort."
In his role, Mr Curran provides professional oversight from pharmacy, sitting on the COVID-19 vaccination steering group where he provides input on pharmaceutical issues, logistical issues for the delivery of the programme and provides training for all staff involved.  He also looks after vaccinations for nursing homes, homeless people, and in-patients across various hospital locations.
Practice premises, community halls, churches, and even outdoor spaces demonstrates the range of the other locations where pharmacists working in general practice have administered COVID-19 vaccines to patients in primary care.
"General practice pharmacists (GPPs) fulfil a crucial role as part of a multidisciplinary team working within GP practices and their responsibilities in the COVID vaccination programme have been varied and wide-ranging," explains Glynis McMurtry, head of pharmacy for GP Federations in Northern Ireland, which are groups of general practices that share responsibility for services.
Depending upon the practice team, general practice pharmacists may be involved in planning and running a vaccination clinic, administering the vaccine, advising on handling of the vaccine, and liaising with secondary care specialist teams about vaccination plans for special patient groups. 
"I believe it has further enhanced the reputation of pharmacists in General Practice," Ms McMurtry says. "GPs have commented that general practice would have collapsed if it wasn't for GPPs."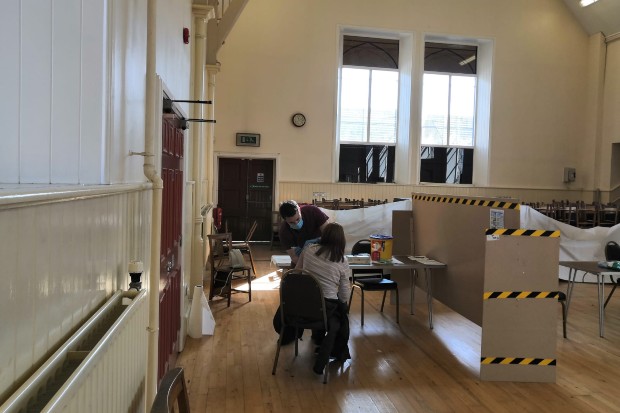 GP pharmacist Ryan Graham gives a jab at a GPP vaccination hub in a community centre.
Community pharmacy steps up
"The community pharmacy COVID vaccination service (CPCVS) has demonstrated the tremendous resource we have in local community pharmacies and their access to communities," says Joe Brogan, head of pharmacy and medicines management at the Health and Social Care Board (HSCB).
In its first four weeks, 32,000 vaccinations were administered by some 348 pharmacies across Northern Ireland via the CPCVS.
One of those pharmacies was McCloy's Chemists in the rural village of Kilrea. Stephen Slaine, its pharmacist of 18 years, says he has never before seen a service be rolled out with such scale and speed.
"[There has been] tremendous collaboration from all the partners involved in designing the service," explains Mr Slaine. "There was a huge collective effort to deliver the CPCVS in such a short space of time by all the partners."
Mr Slaine continues that he and his team were amazed at the response to the service from their local community. "Within seven days [of launching the service] we had received and delivered our entire stock," he says. "We are finding people from the older age groups are coming to us who have only now decided to get vaccinated." 
The national outlook
"PGDs are a fundamental part of ensuring safe systems for the administration of COVID-19 vaccinations," explains Mr Brogan.
The PGDs authorised by Mr Brogan, along with a senior doctor and nurse from the Public Health Agency, have permitted COVID-19 vaccinations to be administered in various locations, from car parks to care homes.
While some pharmacists have acquired new responsibilities as part of their existing job through the vaccine rollout, others have been seconded to specific roles designed to provide pharmacist input and oversight.
One such person is emergency preparedness pharmacist Catherine Goudy who, along with colleagues in Regional Pharmaceutical Procurement Services (RPhPS), has been working closely with the DH to allocate and monitor the movement of vaccines across the region.
The team has been tasked with a wide range of activities related to the pandemic, including stock monitoring, stock allocations, approving orders and record keeping. "We established good working relationships with stakeholders, such as procurement teams, distributors and DH personnel, which equipped us to quickly identify discrepancies and respond to queries within tight time constraints," explains Ms Goudy.
"Ever-changing goal posts"
The planning and delivery of any new programme is complex and demanding, but to do so at the pace and scale the pandemic demanded has meant that those involved have been working under considerable pressure and challenging circumstances.
There has been a strong emphasis on minimising waste during the vaccination programme, as every dose used is another life given greater protection from COVID-19, but to do so requires detailed planning and careful execution.
"A real challenge in the early stages was the limited information about the vaccine candidates," explains Chris Garland, senior principal pharmaceutical officer at the NI Department of Health. "To a large extent, the vaccine delivery model was driven by the characteristics of the vaccine and planning was difficult without clear information about storage requirements, stability data and product characteristics."
Even when armed with these details, planners were faced with further obstacles: the Pfizer/BioNTec vaccine requires careful handling in order to maintain its integrity. The welcome arrival of the Oxford/AstraZeneca vaccine only increased the complexity of the planning process, as the storage and preparation of vaccines differ greatly.
Aside from this, there has been a constant struggle between supply and demand throughout vaccination roll-out. Northern Ireland was one of the first places in the British Isles to successfully vaccinate its care home residents. However, difficult decisions had to be made to facilitate the early vaccination of as many vulnerable individuals as possible with limited supplies. Despite the supply issues, Northern Ireland has so far only had to delay vaccination targets set in December by several weeks.
While it's true that supply issues have been headline news, more concerning to many have been the reports of the adverse effects of the different vaccines. Pharmacists working in general practice in particular have experienced a high volume of queries from patients concerned about information they have read in the media, including misinformation, Ms McMurtry reports. Planners and vaccinators across all sectors have had to keep on top of emerging updates regarding adverse effects and eligibility criteria for the different vaccines. Ms Macintyre describes the situation as one of "ever-changing goal posts".
Another challenge has been manpower required to deliver the vaccination programme. Vaccination centres have been largely staffed by volunteers working overtime and during days off. Retired pharmacists have returned to work to fill gaps in rotas, and staff moved between organisations.
Heavy workloads and maintaining business as usual has been particularly demanding for some who had to prioritise new duties with their existing responsibilities.
"Should a similar situation arise and no additional resources are made available, consideration should be given to scaling down other commitments as appropriate," says Ms Goudy. General practice pharmacists have also voiced concerns about being overstretched with having to continue ongoing services at a time when workloads have significantly increased due to the pandemic.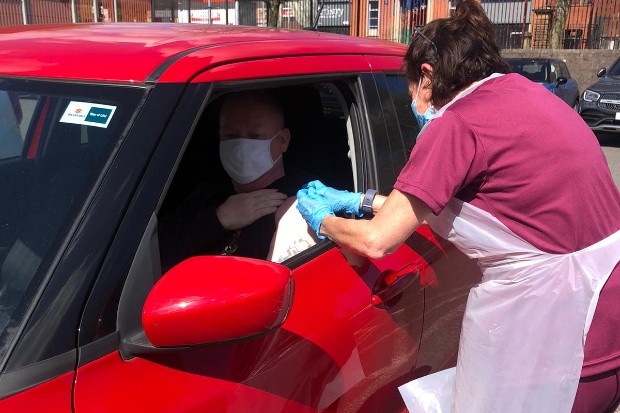 Maura Corry gives a COVID-19 vaccine at a drive-thru centre.
Key takeaways for a future vaccine programme
It's evident that a phenomenal volume of work has been undertaken in such a short space of time. For instance, Ms Macintyre reports that both her mass vaccination centres were set up in less than five weeks.
This unprecedented level of activity offers a rich source of learning for pharmacy.
Despite Ms McMurtry experience of "overwhelming" appreciation from the public, they have uncovered important areas for learning, such as responding to the isolation felt by some patients and addressing false information on vaccines.
"Engaging with service users to understand and learn from their experience will be vital" Mr Garland says, stressing that building networks to share learning from errors to ensure there are systems put in place to prevent recurrence will be key.
Yet the success of the COVID-19 vaccination programme prompted Mr Brogan to reveal that the HSCB wishes to develop further community pharmacy vaccination services in the future, which says it has "advocated for the development of enhanced services, such as vaccination schemes, for many years".
"Community pharmacy now feels part of the whole vaccination effort and is prepared for future large scale vaccination programmes," says Mr Slaine.
Pharmacists will have already learned a great deal from the vaccination programme, from differentiating between immunisation stress related response reactions and anaphylaxis, and how to be prepared for the use of different vaccines. "Storage conditions, travel restrictions and contraindications vary between the different types of vaccine," explains Mr Curran.
Through their experience in the vaccination programme, general practice pharmacists have a renewed sense of the significance of their role. One pharmacist told Ms McMurtry: "A programme such as this has many elements to it and pharmacists have been involved in each one.
"We hope our colleagues in other healthcare professions have valued our contribution to the programme and we have been able to demonstrate how our knowledge and skillset can be used in another aspect of patient care — from early planning, programme delivery, evaluation and forward planning."
For Mr Slaine, the challenge now will be how those new skills "become part of our normal everyday work".
However, the vaccine rollout was not all smooth sailing, and although many wish to build on the momentum of the programme, any future vaccination service cannot rely on retired pharmacists and staff working in their free time, Ms Macintyre stresses.
Similarly, there have reports that the NHS IT infrastructure remains a major practical stumbling block. Full integration of IT systems is urgently needed in order for general practice, hospital and community to be able to share vaccination information and prevent duplication.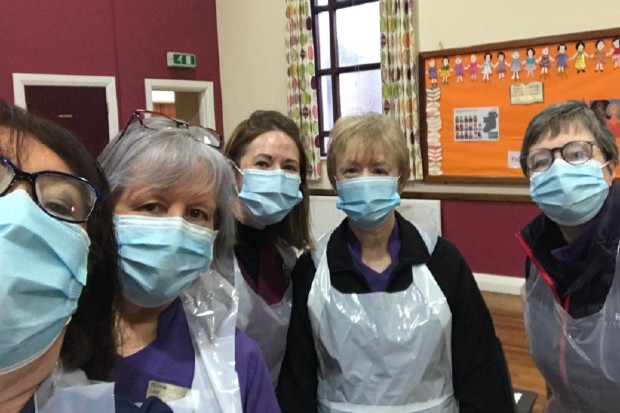 The GP Federation team for the Antrim-Ballymena area.
"Pharmacy rose to the challenge"
Undoubtedly, there is a great sense of pride exuded by those interviewed in how pharmacy stepped up during the pandemic. "Pharmacy rose to the challenge and everyone involved in the programme went the extra mile to make it happen safely," Ms Macintyre says.
"Pharmacy teams have never been held in higher regard among policy makers, healthcare professionals and the public alike," says Mr Garland — a view held by everyone interviewed. Mr Slaineis particularly proud that NI's health minister Robin Swann chose to have his own vaccination at a community pharmacy.
"Seeing the rollout making a difference to people who have been shielding for such a long time and giving them the confidence to leave their house has been very heart-warming," reflects Mr Curran. "With everything that has happened over the past year you would expect people to be frustrated or anxious. However, people have been so positive to have hope that the situation could be improving."
And with over one million people in Northern Ireland now vaccinated with at least one dose, things are certainly improving. The seven-day rolling average of new COVID-19 cases is down from 664.7 per 100,000 people at its peak in January to 24.4 per 100,000on 1 June 2021.
The story of how Northern Ireland's health services vaccinated a nation is one of over-worked and under-resourced health services that adapted rapidly to deftly deal with an unexpected global crisis. But the work to come for governments and health institutions will be ensuring that the country's health system is able to deal with such a future emergency without having to go to such great lengths.
Dr Maureen Spargo and Dr Katherine O'Neill are senior research and innovation programme managers at the Medicines Optimisation Innovation Centre (MOIC), based out of the Antrim Area Hospital
Are you or your pharmacy involved in the COVID-19 vaccination programme? Let C+D know and share your experiences with fellow pharmacists and staff on the C+D Community. Register for free, or access the site via LinkedIn.