Public wrongly believes cuts are on hold 'indefinitely'
Many people still believe the cuts to the sector's funding are on hold "indefinitely", C+D learned as it joined the National Pharmacy Association (NPA) on the anti-cuts campaign trail last week.
While there is "increasing" public and government awareness of the value of community pharmacy, "a lot of people" think the cuts to pharmacy funding are "completely on hold", the NPA's head of communications Stephen Fishwick told C+D on Friday (October 7).
"We have made it our business to clarify that," he added.
In September, pharmacy minister David Mowat announced that the government's proposed £170 million cut to pharmacy funding in England is to be delayed beyond October. But just a couple of weeks later, the Department of Health (DH) confirmed in a letter to stakeholders that a funding "package" for community pharmacy in England would be announced in mid-October, to be implemented in December.
At the time, NPA chairman Ian Strachan said: "In what sense is a brief negotiation behind closed doors the ongoing dialogue we were promised just days ago?"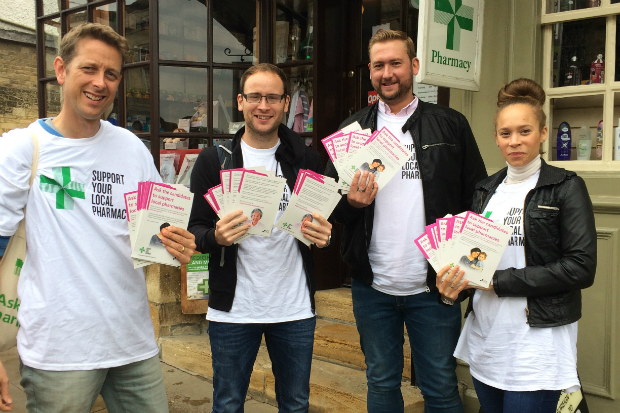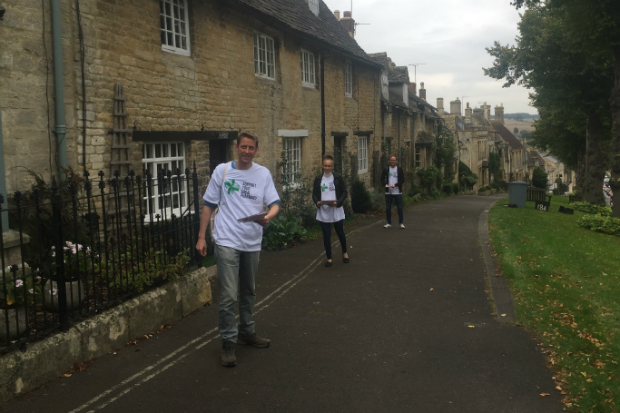 "Unprecedented" approach
Speaking to C+D during a leaflet drop (pictured above) in Burford, Oxfordshire, Mr Fishwick said the public are aware of the NPA's campaign efforts to fight the funding cuts and 'Support your local pharmacy', but "we are having to correct and clarify public understanding on the cuts announcement".
The NPA had a "huge presence" at the party political conferences this year, and the "unprecedented" joined-up approach the pharmacy bodies exhibited this time around helps to keep the anti-cuts campaign – and ongoing support for community pharmacy – in the media, Mr Fishwick added.
"We're in a place right now we have never been before, a place of understanding and support… but unfortunately there are still some officials driving through changes that will put community pharmacy at risk."
Mr Fishwick stressed: "We will continue to talk up the value of community pharmacy and keep the campaign in the public eye, long after the funding package has been announced."
"Wherever the public eye is, wherever the politicians and media are, that's where we're trying to be," he added.
Listen to C+D's podcast recorded live from the anti-cuts campaign trail in March.