Lloydspharmacy investigating locum MUR pressures
Lloydspharmacy is investigating pressures on locums to hit medicines use review (MUR) targets in one of its branches, the multiple has told C+D.
A locum – who wishes to remain anonymous – photographed the notice below in a Lloydspharmacy branch in south-east England last month.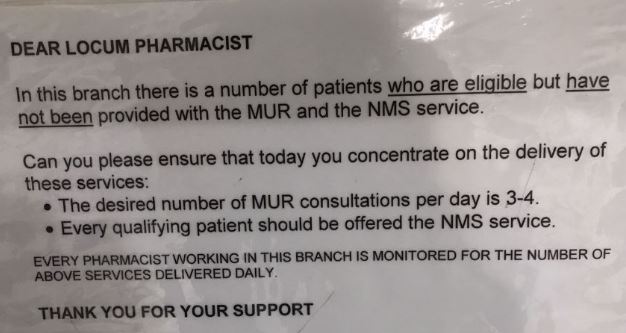 Lloydspharmacy superintendent pharmacist Steve Howard told C+D the company is "investigating the matter internally".
Mr Howard stressed that Lloydspharmacy does not set targets for locums and said the company has "addressed" instances where MURs were "delivered inappropriately".
"While we encourage each of our stores to reach 400 MURs a year, we only do so when patients are eligible and when it's deemed clinically appropriate by the pharmacist," said Mr Howard.
"We will remind our teams of their responsibility to ensure that all services we provide are appropriate for the patient," he added.
Mr Howard did not comment on the notice's claim that each locum's MURs are "monitored".
His statement comes a week after Rowlands confirmed that MUR targets are "not optional extras" for locums.