This article was correct at time of writing (March 25) - to keep up with the latest information please visit our coronavirus hub
As pharmacy teams struggle to cope under severe strain in the wake of the COVID-19 pandemic, NHS England is updating the community pharmacy standard operating procedure on a regular basis to keep both pharmacy teams and the public safe.
Pharmacy bodies have published resilience guidance to help support and maintain the community pharmacy network during the response to the COVID-19 pandemic.
The World Health Organisation (WHO) has recognised the difficulties of working as a healthcare professional during the outbreak.(1)
It has advised that during this difficult time, stress is normal and not a reflection of performance or character. Pharmacy teams should ensure they are taking care of their mental and physical health during this time.(1)
The WHO recommends coping strategies such as:
sufficient rest at home, as well as between shifts
breaks at work where possible
eating as healthily as possible
going for walks to clear your mind, whilst following Public Health England (PHE) social distancing advice
maintaining contact with family and friends through telephone, skype, text or Whatsapp
trying to avoid alcohol, tobacco and other drugs to cope with the anxiety and stress you are feeling, as this will further exacerbate anxiety.(2,3)
Pharmacists should remember that the COVID-19 outbreak may last a few months, so not to overexert themselves and take each day at a time.
The whole pharmacy team is likely to be feeling the same way, so it is important to use this support network to talk about the challenges faced, and this may bring some comfort and additional support.
The following practices might help to ease some anxiety in the current situation:
Try to limit the amount of time you spend listening or reading the news, especially if you notice you are particularly upset or anxious after.
Where possible, try to stop the spread of fake news or misinformation. Public Health England, NHS guidance or the WHO website provide the most up to date news, not forwarded chain texts or emails.
Check in on your elderly friends or family by phone, try to limit face-to-face contact unless for essentials or emergency situations.
It is safe to open windows for fresh air, try to get natural sunlight where possible and if you have a garden, go outside for fresh air.
Engage in hobbies at home such as cooking, reading, watching your favourite tv shows or getting into some home redecorating.
For those working long shifts - eat healthily, shower and rest where possible.
Try to focus on the positive, uplifting community stories and use this time to cheer each other on, especially those working to keep society going, including supermarket staff, healthcare workers and teachers.(1)
The NHS is an incredible workforce and to keep the public healthy, healthcare professionals also need to be healthy – mentally and physically. If any of the pharmacy team feels overwhelmed or feels that their mental health is deteriorating, it is important to speak to a manager or colleague. It is a truly difficult time and everyone, including healthcare professionals, should be able to get the support they need.
Managers should try to support pharmacy staff and should encourage self-isolation if staff or their families have shown symptoms. MIND charity has some useful information and advice on looking after your mental health, for those who are having to follow self-isolation advice.
It's important to remember that during this difficult time, many pharmacies will be under pressure due to staff illness, so team members may need increased support from managers. It is important that managers communicate with their pharmacy teams, ensuring they are given accurate and good quality information. Colleagues should be encouraged to support each other.
Communicating with patients
Pharmacy teams should also be conscious that patients will be stressed and anxious about the situation and may approach the pharmacy for support and guidance. It is important to be empathetic to all those who are affected. Those with COVID-19 should be referred to as "people affected by COVID-19" to avoid dehumanisation or stigmatism.
Pharmacists should feel confident in providing support to people who are affected with COVID-19 and should be aware of useful sources of advice they can link them too. This is especially important for those who require mental health and psychosocial support. The stigma associated with mental health problems may cause reluctance to seek support for both COVID-19 and mental health conditions. Pharmacists can stay informed on the latest COVID-19 developments on the WHO website and on gov.uk.(2,3)
Staying active
For healthcare professionals to keep their minds and bodies healthy, the NHS has provided some useful 10-minute exercises to keep you feeling healthy and balanced. However, it is important to not over exert yourself by exercising, especially after a busy and tiring day at work, and take adequate rest when needed.(4)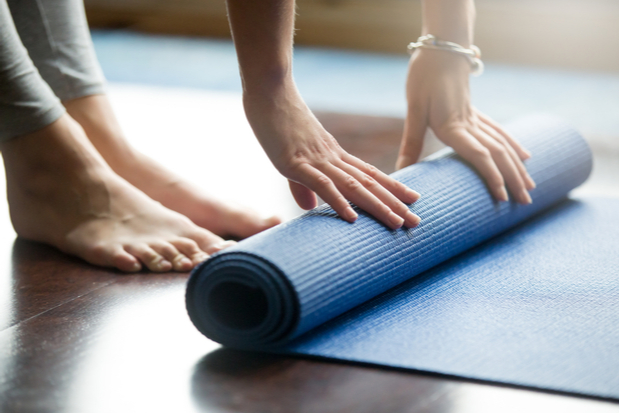 Where can I find more support?
Pharmacy teams can find additional supporting on the following websites and apps:
References