From this module you will learn:
what is meant by polypharmacy

how to be aware of the factors leading to polypharmacy

the consequences of polypharmacy
Download this module - this includes the 5 minute test - here.
Polypharmacy refers to the use of multiple medications, although there is no standard definition or universally agreed cut-off point with regard to the quantity. Twenty years ago, more than five drugs may have been considered as polypharmacy – in the context of increasing the likelihood of negative health outcomes and defining parameters. Whereas now, more than nine may be more realistic.
Using multiple medications may well be appropriate. People are increasingly treated with complicated drug regimens to reduce their future mortality and risk of diseases, such as acute myocardial infarction or other cardiovascular events.
The average age of the population is increasing, and with it the prevalence of chronic conditions such as diabetes, hypertension, dementia and various types of cancer. It is clear that if every individual were to be treated according to best practice guidelines, it would result in multiple necessary and clinically appropriate medications being taken.
However, in other cases polypharmacy can be inappropriate – for example, when more medications are used than are clinically indicated. This article will outline some of the risk factors, key consequences, and ways to address inappropriate polypharmacy.
Risk factors associated with polypharmacy
Polypharmacy is common among older adults, due to the need to treat various disease states and conditions that develop during the ageing process. Polypharmacy is therefore closely associated with multimorbidity.
Factors linked to polypharmacy can be classified into three broad groups:
Demographic – increasing age, white race, and higher level of education

Health status – poorer health and nutritional status (real or perceived); those with chronic conditions such as angina, asthma, dementia, depression, diabetes, hypertension and osteoarthritis; those with limited life expectancy or those at the end of life

Access to healthcare – having multiple healthcare providers.
Consequences of polypharmacy
Polypharmacy increases the risk of patients having unnecessary side-effects and adverse drug reactions (ADRs), and exposes them to potential drug interactions. In one study involving outpatient data across 11 years, those taking more than five medications had an 88% increased risk of experiencing an ADR at some point, compared to those taking fewer medications.
Polypharmacy may also affect adherence to medication regimens and increase the risk of morbidity, mortality and hospitalisations. Other studies have found an association between polypharmacy and both falls and cognitive impairment.
Moreover, polypharmacy has been linked with functional decline in older patients. For example, research conducted in the USA found that using more than five medications was associated with a reduced ability to perform instrumental activities of daily living (ie those tasks that support an independent life style). Many medications are known to exacerbate urinary incontinence, and polypharmacy has been linked with an increased risk of lower urinary tract symptoms – such as incomplete voiding.
The true cost of inappropriate polypharmacy – which includes medicines fees and costs arising from treatment for ADRs and falls – is difficult to quantify. In terms of the sum spent on medicines in the NHS, there were over one billion prescription items dispensed in the community in England in 2014 (an increase of 55% from 2004), with a total cost of £8.9 billion. Over half of this cost was related to items prescribed to patients aged 60 and over, who are likely to be taking multiple medications.
As the population ages, the number of people in the UK aged 85 and over is forecast to more than double – from 1.4 million in 2010 to 3.5 million in 2035. This will undoubtedly increase the medicines burden on the NHS – as patients within this age group frequently present with multiple morbidities.
Minimising the burden
Polypharmacy can increase the clinical workload of healthcare professionals and has the potential to increase the risk of medication errors, while also placing great strain on the health service and drugs budget.
Opportunities for cost minimisation should always be considered. But only after ensuring that important factors such as effectiveness, safety and adherence are not being compromised.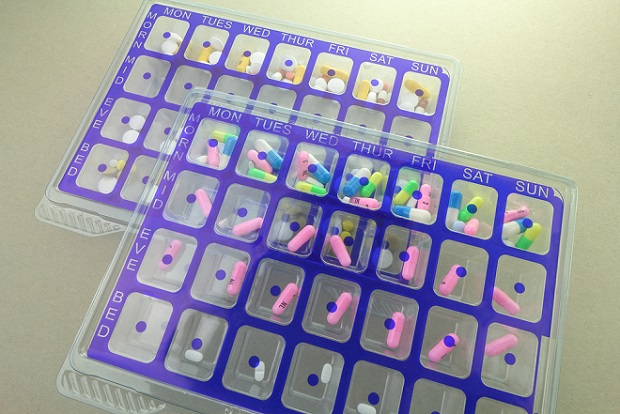 As pharmacists­ must ensure the safe and effective use of medicines, it is also crucial to be able to distinguish appropriate from inappropriate polypharmacy.
The pharmacist's role
There are many resources for healthcare professionals in relation to polypharmacy. For example, think tank the King's Fund provides information on appropriate and inappropriate polypharmacy, and ways to minimise the negative clinical consequences of polypharmacy (see CPD section of this article).
According to Scottish NHS guidance, you can identify polypharmacy as appropriate if all of the following statements are true:
medications are prescribed for the purpose of achieving specific therapeutic objectives that have been agreed with the patient

therapeutic objectives are achieved or will be achieved

therapy has been optimised to minimise the risk of ADRs

the patient is motivated and able to take all medicines as intended.
Conversely, inappropriate polypharmacy happens when these statements do not apply.
Healthcare professionals across different sectors need to work coherently and effectively to address inappropriate polypharmacy. Systems should be developed to optimise medicines use, so that patients gain maximum benefit from their medication with the least harm and waste. This may include:
use of resources – such as the Beers criteria (see Medicines optimisation and review, below) – to ensure appropriate prescribing

use of compliance aids and monitored dose systems where appropriate

conducting medication reviews

deprescribing – the reduction of unnecessary medication

medicines reconciliation.
Fundamentally, any initiatives that are developed and rolled-out should be patient-centred, clinically robust, evidence-based, evaluated and audited.
Improving coordination of care
Given that having multiple health providers is a risk factor for polypharmacy, patients with multiple morbidities admitted to a particular hospital department may require a single healthcare professional to take responsibility for co-ordinating their overall care.
Similarly, in primary care, it is beneficial for the patient to attend the same GP and register with one pharmacy, so that comprehensive medication records can be maintained.
Furthermore, if a shared medication record is made available to all healthcare practitioners involved in a patient's care, it can potentially reduce medicines reconciliation errors and inappropriate medicine prescribing.
Community pharmacists can work with hospitals to perform medication checks after a patient is discharged, and offer additional support in helping patients manage their medications. Since many readmissions are due to medication issues, pharmacists can ensure medicines are taken properly and that all medications have been accounted for.
Medicines
optimisation
and review
Both prescription and over-the-counter (OTC) medications need to be taken into account when conducting a thorough medication review. The update module Medicine use in older adults: part 2, refers to various tools and criteria to help identify potentially inappropriate medication use in older adults.
Examples include the Beers Criteria (initially developed by Mark Beers), the Screening Tool of Older Persons' Prescriptions (STOPP) and Screening Tool to Alert doctors to Right Treatment (START).
Pharmacists who do not correctly identify a patient's symptoms as being iatrogenic (caused by medicine or medical treatment), may feel inclined to recommend a new or additional treatment. However, this additional treatment may be unnecessary to counter the adverse effects of other drugs.
This process of adding to a patient's treatments is known as 'incremental prescribing' or the 'prescribing cascade'. For example, the use of medications with anticholinergic side-effects may cause constipation, leading to laxatives being prescribed.
Pharmacists also need to consider interactions between drugs, and whether concomitant use of medications undermines therapeutic benefit. When reviewing medications, you should consider if a treatment can be stopped, given that many people use medicines beyond the point where it is clinically appropriate.
In literature, the term deprescribing is readily used to refer to the process of tapering or stopping drugs with the aim of minimising polypharmacy and improving patient outcomes.
The Medication Appropriateness Index (MAI) – found here – was designed in 1992 to assist doctors and pharmacists in assessing the appropriateness of a medication for a given patient. The MAI consists of 10 questions, with three options to choose from ('A' appropriate, 'B' marginally appropriate, and 'C' inappropriate) along with definitions, instructions and examples.
The 10 questions relate to:
Indication

Effectiveness

Dosage

Directions

Practicality

Drug–drug interaction

Drug–disease interaction

Unnecessary duplication

Duration

Expense, in comparison to other agents of equal efficacy and safety.
The National Institute for health and Care Excellence (Nice) provides guidance for reviewing a patient's medications, and NHS Scotland has produced a helpful 7-step guide (here) to polypharmacy.
Pharmacists have a significant role to play in medicines optimisation and safety. A recent Cochrane systematic review concluded that pharmaceutical care is successful in ensuring that older people are receiving the right medicines, but it remains unclear as to whether this always results in clinical improvement.
A separate CPD module will explore how pharmacists can help with polypharmacy in OTC consultations, during the counselling process and through the provision of medication aids such as monitored dosing systems.
Polypharmacy CPD
Reflect What risk factors are associated with polypharmacy? Can polypharmacy be appropriate? What is the Medication Appropriateness Index?
Plan This article contains information about polypharmacy, including its definition, risk factors and consequences. How pharmacists can help address inappropriate polypharmacy and the resources available to help them are also discussed.
Act Read the key findings of the King's Fund report on polypharmacy and medicines optimisation here.
Identify any of your patients taking multiple medications who might benefit from an MUR
Find out about learning programmes or training courses focussing on polypharmacy, think about how you could improve the services your pharmacy provides to those patients taking a large number of medications
Read more about medicine use in older adults on the C+D website here.
Evaluate Do you now have a good understanding of the risk factors and consequences of polypharmacy? Are you confident about reviewing patients' medications and advising about changes that could benefit them?