This article was correct at time of writing (January 30) - to keep up with the latest information please visit our Coronavirus hub
Coronavirus is a large family of viruses that can be transmitted between animals and people. The viruses can cause a range of conditions, from the common cold to more severe conditions such as severe acute respiratory syndrome (SARS-CoV) and the Middle East respiratory syndrome (MERS). There are some coronaviruses that are currently circulating among animals but have not yet affected humans.(1)
A novel coronavirus is a new strain of coronavirus that has not been identified in humans before. The Wuhan novel coronavirus (WN-CoV), also known as the 2019 novel coronavirus (2019-nCoV), is the virus responsible for the current outbreak. The outbreak has been identified as starting in Wuhan, China, with early cases found among people who had been in close contact with animals. However it has now been shown that the virus is being spread between people.(2)
What are the symptoms?
Symptoms of people infected with the WN-CoV usually appear within 2-14 days of exposure and vary greatly. Common symptoms are cough, fever and shortness of breath. More severe symptoms include pneumonia, severe acute respiratory syndrome, kidney failure and even death.(2)
How is it transmitted?
There is currently limited information about the exact transmission of this virus. However, it is known that coronaviruses are transmitted via direct or indirect contact with infected secretions.(3) It is thought that WN-CoV spreads via respiratory droplets from an infected person in a similar way to how SARS-CoV and MERS spread.(2)
What advice can you give patients?
The UK chief medical officer has raised the risk of coronavirus (COVID-19) to the public in the UK from low to moderate.* However the situation is being monitored closely by the government and the World Health Organisation.(4,5) The government has also introduced advanced monitoring at airports with direct flights to China.
Everyday preventative strategies can be implemented to help reduce the risk of infection. These include:
Apply hand hygiene: washing your hands for at least 20 seconds with soap and water or using alcohol-based hand rub.
Cover up: when sneezing or coughing, cover your nose and mouth with a tissue or cough or sneeze into a bent elbow.
Keep your distance: avoid close contact with people who have common cold or flu symptoms.
Observe food hygiene: ensure any meat or eggs are thoroughly cooked before consumption.
Stay away from animals: avoid contact with farm, wild and dead animals unless you are completely protected.(5)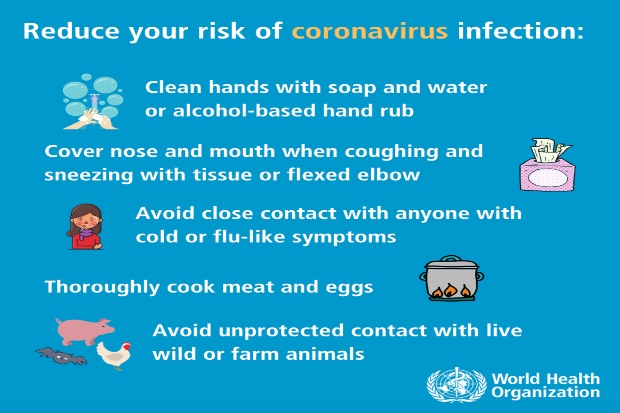 PHE currently advises against using face masks outside of the clinical setting.(6) In the clinical setting it is advised that staff who are assessing or caring for suspected WN-CoV cases use an FFP3 respirator, and other personal protective equipment, including a long-sleeved gown and eye protection.(3)
There is currently no vaccine or specific antiviral treatment available for a novel coronavirus, and those infected with WN-CoV should receive supportive care to relieve symptoms.(2)
Travel to China
Travellers are advised to avoid all but essential travel to Wuhan and the area it is located in, the Hubei province. If a person returns from China and feels unwell within 14 days of returning, they are advised to seek prompt medical advice by calling their GP or NHS 111. The person should remain indoors and avoid contact with other people, until advised otherwise by a clinician.(6)
Further information
References
*This article was updated on March 12