EXCLUSIVE
Employees at the big three multiples are divided in their opinion of their new parent companies, the C+D Salary Survey 2015 has revealed.
Around half of respondents working for Boots and Lloydspharmacy expressed faith in the chain's owner, while for the Co-operative Pharmacy this figure was a little less than three quarters.
The results of the survey, which ran from September 29 to November 11, followed high-profile takeovers of all three multiples over the past couple of years.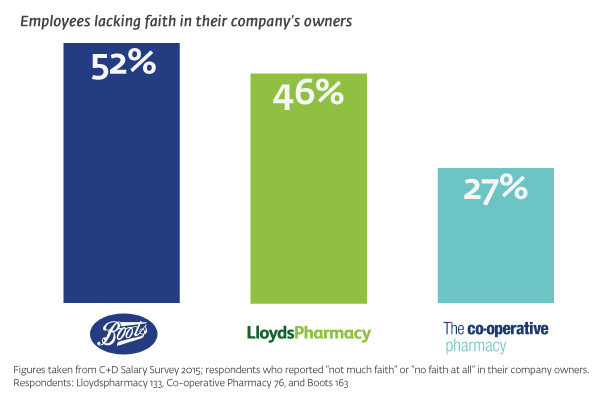 Of the 163 Boots employees who responded, 18 per cent said they had "no faith at all" in its American owner Walgreens. Just over a third said they had "not much faith" in the US pharmacy giant, which bought half of Alliance Boots' shares in 2012 and took full ownership of the company in January.
Boots UK said any period of change came with uncertainty, but stressed that it had a "very similar background and approach to pharmacy" to Walgreens, with a "strong focus on customer-led care".
The multiple added that members of its Pharmacists Partnership Panel, a representative group of Boots employees, had been to visit Walgreens. It expressed hope that there would be "more opportunities to share and learn" between the companies in the coming months.
Lloydspharmacy employees were only slightly less dubious over new owner McKesson, with 31 per cent of the 131 respondents saying they had "not much faith" in the American company and 15 per cent reporting "no faith" at all. The multiple struck a deal with McKesson in October that, despite initial resistance from shareholders, is due to be officially completed "shortly".
Lloydspharmacy told C+D it conducted an internal survey to gather employees' views and "took action where appropriate".
Of the three national multiples, Co-operative Pharmacy employees were the most positive about its new owner. More than six in 10 respondents said they had a "little bit of faith" in Bestway, which bought the pharmacy chain in July. Twenty per cent of its 75 employees who responded to the survey said they had "not much faith" and 7 per cent said they had "no faith at all".
The Co-operative Pharmacy said it was "great to see" the majority of employees had faith in its new owner and said communication had been a "huge focus" during the transition to Bestway ownership.
But one respondent expressed disappointment over Bestway's decision to cut pension contributions, revealed by C+D in November. "New pressures are already emerging," he said.
Reckon your company is the Best Place to Work in Community Pharmacy? Make sure everyone knows it! Visit bestplacestoworkpharmacy.co.uk for a chance to be named in C+D's 2015 list of the sector's top employers.

How much faith do you have in your employer?
We want to hear your views, but please express them in the spirit of a constructive, professional debate. For more information about what this means, please click here to see our community principles and information