Lead researcher Professor Rachel Elliott, from the University of Manchester, said the study not only showed the first five years of the service could ultimately save the NHS £517.6m, but also improved medicines adherence by 10%.
The team – made up of academics from University College London (UCL) and the Universities of Nottingham and Manchester – also calculated that the service has saved the NHS £75.4m in the "short-term".
The study assessed patients' "self-reported adherence" to medicines 10 weeks after being prescribed them, which the team considered "the minimum time required to demonstrate behaviour change in a sample of 503 patients".
Professor Elliott said the figures are "conservative", as the researchers had taken factors such as patient recruitment bias into account.
"Our study suggests NMS increased patient medicine adherence compared with normal practice, which translated into increased health gain at reduced overall cost," she said.
"This is a simple intervention which has been popular with community pharmacists and patients, and is transferable into most therapeutic areas."
"We strongly recommend that NMS should continue to be commissioned in the future," Professor Elliott said.
From the inception of the service in 2011 to August 2016, 3.59m consultations have been claimed for, according to the researchers.
"Could be used more"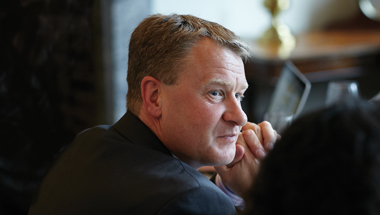 Nick Hunter, chief officer at Nottinghamshire local pharmaceutical committee (LPC), told C+D the study's findings are "really positive".
However, he said the service "could be used a lot more", if other healthcare professionals referred to pharmacy patients. Mr Hunter told C+D that the average pharmacy in Nottingham is currently running four NMS consultations a week.
"[NMS] is not well understood," Mr Hunter said. "It is an underused resource."
"It is a way of recouping income that is being lost to other [funding] changes, but it is also the right thing to do and good for patient care."
"[With NMS] we can grow community pharmacy's potential more than we currently do, and demonstrate its contribution to the health economy like we have never done before."
Extend the list of medicines
Royal Pharmaceutical Society English pharmacy board chair Sandra Gidley said the research provides a "resounding endorsement of the benefits to patient care and the NHS" that the NMS provides.
"Better health outcomes, combined with significant savings to the NHS budget, is the holy grail of medicine optimisation," Ms Gidley said.
Ms Gidley called for the list of medicines covered by the service to be extended to cover all long-term conditions, including mental health issues.
"We would also like to see more patients referred into the service by primary or secondary care providers," she added.
Pharmaceutical Services Negotiating Committee (PSNC) chief executive Sue Sharpe said with current pressures on the NHS, it is "vital to use community pharmacists to help support GPs and other parts of the healthcare system".
"Many people depend on medicines to keep them well, and we are committed to developing community pharmacy to support them," Ms Sharpe said.