Exclusive data from the C+D Salary Survey – presented to England's chief pharmaceutical officer Keith Ridge last month – revealed that stress among pharmacists rose six percentage points from 2016-18.
Well's employee engagement manager Sophie Baldock said: "Data provided by research like the C+D survey is really important in monitoring levels of stress in the industry and its impact on pharmacy teams, helping pharmacies to provide better support for colleagues."
When asked how Well was helping reduce stress among its staff, Ms Baldock said its latest strategy is focused on "taking tasks out of our stores" and "allowing our colleagues to focus on the customer".
Well has reduced workload by "protecting stores' available working hours, and reducing the number of additional activities we ask our pharmacy teams to complete", Ms Baldock said. "We are working hard to improve this even further."
This strategy is in addition to its "wellbeing programme" – including gym discounts, financial support and education, and offering pharmacists wellbeing sessions in partnership with the charity Pharmacist Support – which the multiple says "is something we are looking to build on in the future".
Boots has also told C+D it has launched initiatives to tackle stress in its pharmacies, including its own collaboration with Pharmacist Support.
RPS English board chair Sandra Gidley – who passed C+D's stress data to Keith Ridge – has said the society wants NHS England to fund a pharmacy version of the GP Health Service. Read C+D's analysis of this service and whether it would be a good fit for pharmacy.
What did C+D's stress findings show?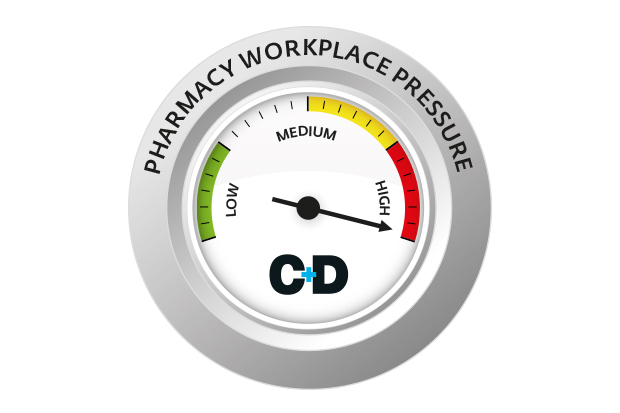 A briefing document – compiled by C+D from the past five years of Salary Survey data – revealed that stress levels among UK pharmacists rose six percentage points between 2016 and 2018, from 70% to 74%.
C+D's document – which you can download here – was presented by RPS English board chair Sandra Gidley to NHS England's chief pharmaceutical officer Dr Ridge in a meeting on January 10.
The document also highlighted the impact of stress on the public in 2018, with 34% of the 1,067 pharmacists who responded to last year's survey saying it had the greatest effect on their service to patients.
Stress-related problems affecting readers in 2018 included: trouble sleeping, cited by 43% of pharmacists; depression (27%); drinking more than usual (11%); and suicidal thoughts (6%).