Former Well CEO: How to survive the pharmacy funding 'doom loop'
Ahead of his retirement after 17 years in the role, Well Pharmacy chief executive John Nuttall sits down with C+D to explain how the multiple has resisted closing its branches
After his years as chief executive of the UK's third-largest community pharmacy chain – in both its Co-operative Pharmacy and Well guises – it's fair to say John Nuttall has had a good run.
Speaking to C+D before he left the company at the end of September to spend more time with his family, Mr Nuttall shared his thoughts on the community pharmacy climate, the business's digital future and the disappointing returns on hub-and-spoke investment.
C+D visited Mr Nuttall at Well's head office in Manchester's Castlefield district, an urban conservation area known for its canals and repurposed warehouse buildings. His office is a corner of calm in the busy workplace, set apart from the rest of the building's exposed brick interior by its white walls.
Despite his lengthy tenure at the head of the multiple, and our late afternoon meeting time, Mr Nuttall shows no signs of fatigue.
"A full online pharmacy"
Well's transformation for the "digital age" began in 2017 with the announcement of plans for an online repeat prescription service, along with a prescription delivery app (pictured below). But this was only the start of its venture into technology.
"We're part way through our digital transformation," Mr Nuttall explains. "We're looking to create a full online pharmacy, rather than just a prescription fulfillment service."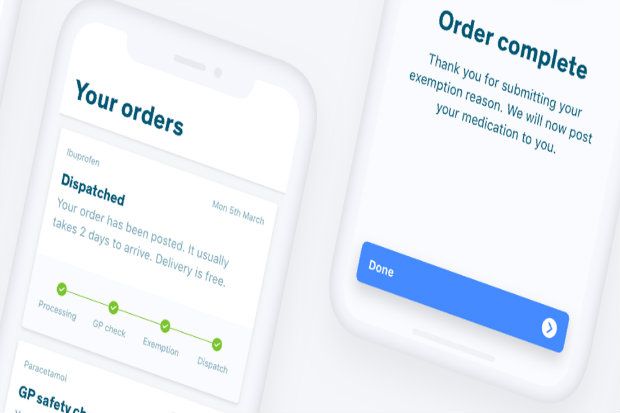 But it's not all about going online. He explains that technology plays its role in improving bricks-and-mortar pharmacies, with the aim of one day having "the whole thing integrated".
What caused this push for digitalisation? While it was already in Well's long-term plan, the success of online-only competitor Pharmacy2U pushed the multiple to "accelerate" its offering, Mr Nuttall says. "Their rate of growth was particularly rapid. The world is moving on, and pharmacy needs to embrace it."
"A funding doom loop"
A bigger problem for bricks-and-mortar pharmacies than the Pharmacy2U threat was the announcement of the funding cuts in England in 2015. But unlike Boots and Lloydspharmacy, Well has still not announced it will close a swathe of pharmacies. In fact, when Lloydspharmacy first revealed plans to close or sell 190 branches in 2017, Mr Nuttall was quick to reassure his employees this would not be replicated at Well.
Between November 2016 and May 2018 Well closed just one branch, in Heswall, Merseyside, a C+D investigation revealed. Over the same period, Lloydspharmacy closed 70 pharmacies, while Boots shut 22.
Well still has no "strategic programme" for shutting its pharmacies, instead hoping to "mop up the extra volume of work" from other companies' closures, Mr Nuttall says. But it will be for the new CEO, former president of the world's largest diamond retailer, Seb Hobbs, to determine whether this strategy changes, he adds.
So, how did the multiple avoid closing branches? "Pharmacy seems to go through this never-ending cycle of doom loop", of funding cuts and funding "corrections", he says. "The key to surviving it…is accepting a lower level of return than we'd enjoyed in the past."
For Well, this involved making the business operate as "efficiently as possible", prioritising a hub-and-spoke dispensing model.
"We're centralising a lot of the work that was previously done in pharmacies," he says. This creates capacity for pharmacists and staff, so they can engage more with patients, he claims.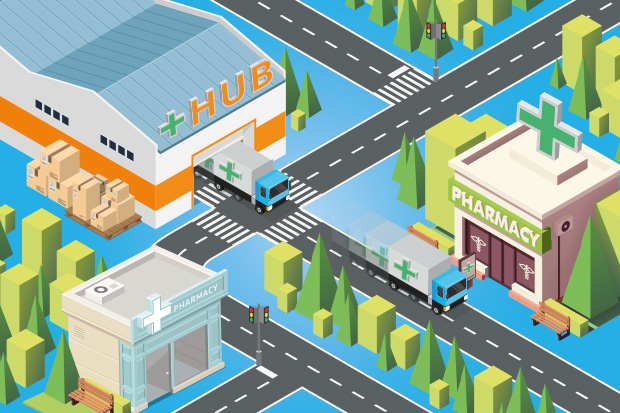 However, investing in a hub-and-spoke dispensing model was a "big and risky investment".
"Our overall investment will have been around £25 million, a big step for any business to take when they don't know what the future holds," he says. "Pharmacy's not out of the woods yet, I think there are some tough years ahead."
Although pumping millions into a hub-and-spoke system was the "right call", Mr Nuttall admits that the return has not been "as great as we would have liked". In fact, the model has been "much more complex" than the company initially envisaged.
"There's a lot of talk about hub-and-spoke [systems] being the answer to everything...it isn't necessarily," he says.
Well is halfway through rolling out its new patient medication record (PMR) system, connecting pharmacies to the hub-and-spoke facilities, provided by software company Positive Solutions. Moving PMR systems is "a lot of work", he says.
"My challenge to government"
The latest development of what Mr Nuttall calls the "doom loop" was the announcement in July that funding in England would freeze for the next five years under the new pharmacy contract.
The "real killer" of the contract is how the funding has "no allowance for cost inflation", Mr Nuttall says. The Conservative party pledged at its conference this year to increase the national living wage from £8.21 to £10.50 per hour over the next five years.
Mr Nuttall says the increase is "the right thing to do" for UK society. But pharmacies will be left out of pocket paying the increased rate as, unlike in other industries, pharmacies are unable to raise their prices for their key function – dispensing medicines. Hub-and-spoke dispensing will go some way to reducing the impact of cost inflation, "but it won't offset all of it", he warns.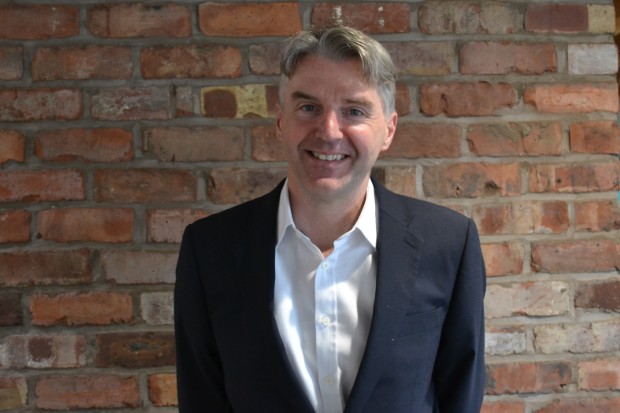 Mr Nuttall calls on the government to "listen a bit more" to pharmacy. He says that moving patients away from GP surgeries is a "great idea, but it's 15 or 20 years old". The new contract does this through the Community Pharmacist Consultation Service (CPCS), which sees pharmacies across England receive referrals from NHS 111 for minor illnesses – such as rashes, constipation and vaginal discharge – and urgent medicines supply.
"Why does it take so long to get that engagement, to get those decisions made for us to progress?" Mr Nuttall asks. "That's my challenge to government. We're here and we're here to help – don't make it too difficult."
Mr Nuttall highlights the "billions" pharmacy saves the NHS through procuring drugs. "We do a really good job of it, which is why so many generics in the UK have the lowest price in the world," he says. "Don't kill the golden goose."
The Pharmaceutical Services Negotiating Committee is doing a "good job" under chief executive Simon Dukes, he adds. "They understand what needs to happen. They're having conversations that are more open and more engaged."
CPCS "could go wrong"
The "main issue" with the new contract is effective signposting of patients, because the "default" choice is to visit A&E or a GP, Mr Nuttall says.
Speaking of the success of the GP and NHS 111 minor ailments pilot referral schemes, he says: "If we properly inform the public about what pharmacies do and what clinical skills we have, and then we properly reward and fund that journey, then they can make a great contribution to the health of the nation."
The CPCS "needs a bit more PR" to promote it, he says. "At any point it could go wrong. If we don't inform people [that] they need to go to pharmacies, and if they don't properly fund us to do the work, we'll find ourselves in a problem."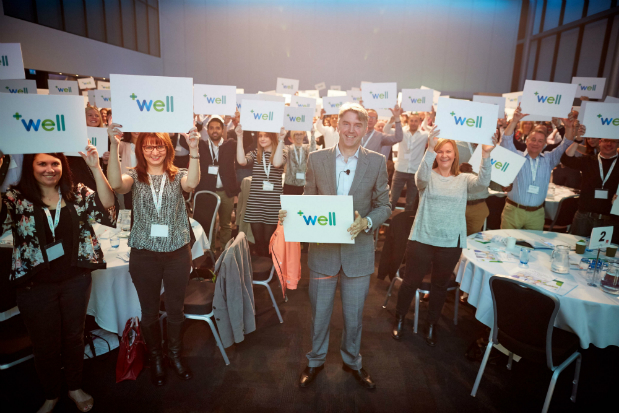 "A winding career"
Turning to the highlights of his career – which includes setting up a manufacturing plant in China – Mr Nuttall says, "with humility", that he didn't start working in pharmacy "thinking I was going to become a CEO, so I'm quite proud of that". He is far from his first day working in a pharmacy in Nantwich, Cheshire, where he says he was chastised for having a hole in the sleeve of his white coat.
Of his time at Well, sleeves now intact, he says: "We've been ambitious as a business and not all ambitious moves pay off." He feels that his work on Well's digital and hub-and-spoke strategies has succeeded, even if "it's been a long and winding road".
After 17 years at the head of Well, Mr Nuttall's advice for his successor, Seb Hobbs, is to "take his time to understand pharmacy, and build decisions on those strong foundations".