The award-winning pharmacy design with traditional style
One pharmacy responded to its staff needs with a design update that includes some medicinal decorations, winning a C+D Award for its efforts
Just five minutes' walk from scenic Pembroke Castle is Mendus Pharmacy. Situated on the main street of the historic town of Pembroke in south west Wales, the approximately century-old pharmacy is a piece of history in its own right.
When pharmacist and director Nathan Raymond renovated the premises he wanted to improve his staff's wellbeing, dispensing volume and retail sales. He thought that a more traditional theme would harmonise the pharmacy's look with the architecture of its surrounding buildings, an innovative approach that won him the C+D Pharmacy Design Award 2019.
The refit
Mendus Pharmacy hadn't been refitted for several years when Mr Raymond bought it in May 2015. The workplace became more chaotic as its dispensing volume increased, and Mr Raymond realised it would only be a matter of time "before a big mistake happened".
He launched the refit in February 2018. Over the seven weeks of work Mr Raymond and his team faced "all sorts of challenges", he tells C+D one quiet Friday afternoon.
As well as battling through snow to get to work, Mendus Pharmacy's team worked alongside the builders for the duration of the refurbishment, migrating to makeshift dispensaries in different corners of the premises.
Mr Raymond says he was afraid that this disruption would deter customers from coming back, but instead, the refit was welcomed with "a lot of kudos locally".
"I think [people] were enthusiastic that we were actually investing in the town. Four banks closed since I bought the shop in 2015. [That's] four more empty buildings," he says.
As a testament to Mr Raymond's claims, a patient who walks into the pharmacy during C+D's visit compliments the director for making the place look "respectable".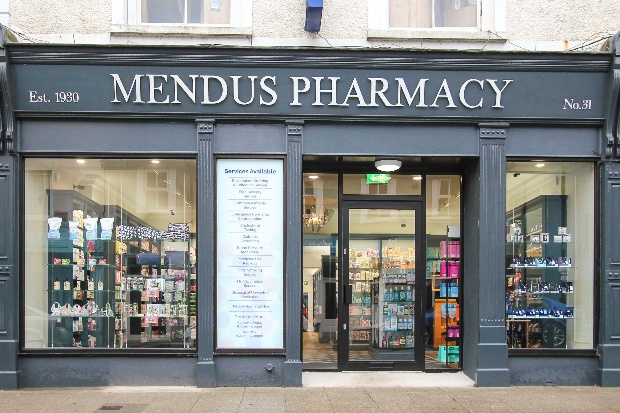 Fit for purpose
Mr Raymond thought a refit would benefit staff as well as patients. "We work a lot and I like being in a nice environment. If I'm going to spend 45-50 hours a week in a place, I'd like it to be nice. That was a factor for me as well," he says. But the main thing "is just making sure your pharmacy is fit for purpose".
Before the refit, the pharmacy had a separate monitored dosage system (MDS) area and two consultation rooms located at the back. This meant that, when leaving the dispensary in the middle of the shop, staff wanting to reach the MDS section had to walk across the retail area.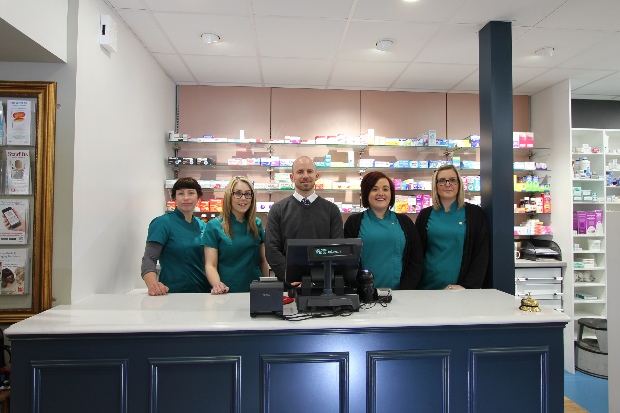 Sometimes this was done holding patients' confidential data, which was problematic. "You can get quite fraught when everyone's on top of each other. It was difficult," he says.
Better mind frame
During the restoration work, which cost around £160,000, one of the two consultation rooms was converted into a stock room and staff area. The room was linked to the MDS area, which in turn was connected to the dispensary through a partition wall.
These changes have reduced staff stress levels and "everyone's in a better frame of mind", he says.
The pharmacy's original configuration also made it a tempting target for shoplifters. "It was like a rabbit warren, all hidden dark corners. It was quite easy to come here and stick something in your pocket. [The refit] made things more visible and we've got CCTV now, which helps a lot," he adds.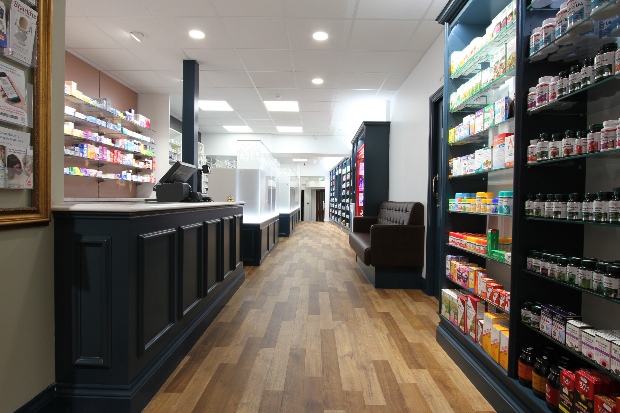 Special features
The most striking element in the pharmacy is the chandelier (pictured below) made of old medicine bottles, hanging in the middle of the retail area. "This was the shop fitter's idea," Mr Raymond says, pointing at the unusual decorative light.
"I think he'd found something like that online, but just with uniform bottles. [He suggested] we could use odds and sods and pharmacy ones." Handily, the building already had a cellar full of historical pharmacy artefacts, he adds.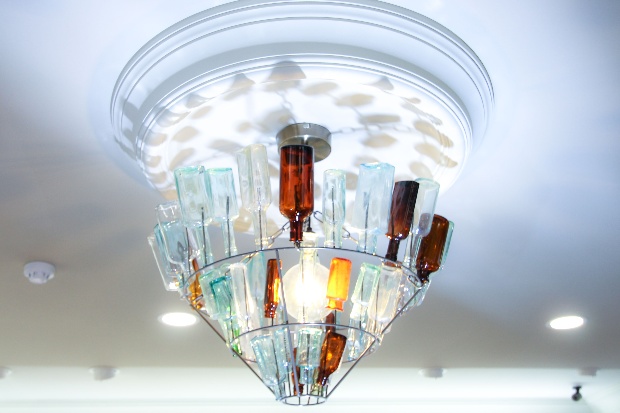 Some of these bottles were used in making the chandelier. Other items are on display in the retail area, in classic wooden units painted navy blue.
At the top of the shelving units, pestles and mortars, and old apothecary bottles – some of which were brought in by the daughter of the previous owner – invite customers to consider the origins of modern medicine.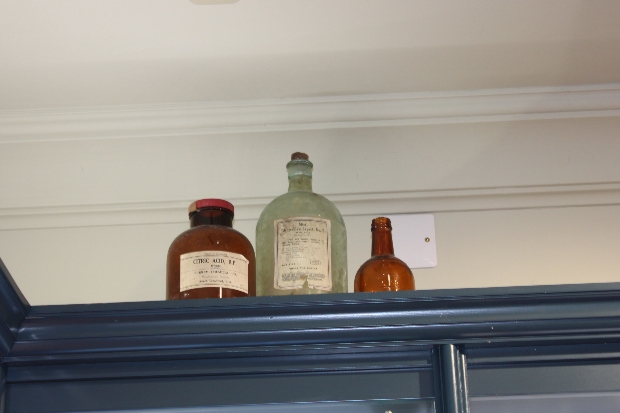 Reduced retail space
Renovating the pharmacy reduced retail space by 12%, which Mr Raymond feared might cause a reduction in sales. But the need for more dispensing space "was paramount" and he took the risk. To his surprise, "the retail side of things is still good".
"We've not really had to discontinue anything, and we've managed to keep stock of everything we've had," he says. "It's been much more organised."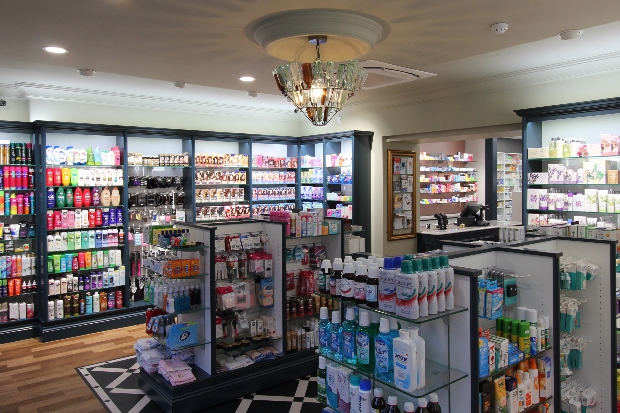 Footfall has been maintained partly because Mr Raymond decided to retain the pharmacy's second entrance, which connects the car park at the rear to the main street.
"I figured quite a lot of people will be stopping and buy something, or if they're coming through, they might drop their prescription off here. It's footfall, so why would you want to stop that?" he says.
Mr Raymond uses the car park himself, where his shiny new delivery van (pictured below) is stationed when C+D visits. The upgrade from the previous "grotty" van accompanied the refit, Mr Raymond says.
"I will be here for the next 20-25 years at least. I'm not likely to do another refit – maybe a few touch-ups in 10 years, but nothing as major as this. Over time, I think it'll pay off," he says.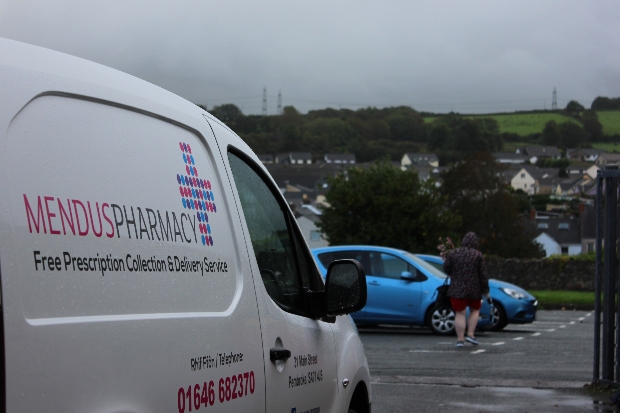 The refurbishment is already paying dividends. Mr Raymond recorded a 15-20% jump in prescription figures as a result. He says that, had he decided not to renovate the pharmacy, he and his staff wouldn't have been able to cope with the increased workload in 2019, when three care homes chose Mendus Pharmacy's services in the space of just four months.
The team is now working in an environment that allows them to be efficient. "If we offer a good service, people decide to use us," Mr Raymond says.
Now that Mr Raymond has invested in the historic business, he is prepared to face whatever the future holds.
Could you win C+D's Pharmacy Design Award in 2020? Click on the link below to enter and for more details: