Pharmacy bodies troubled by 'concerning' RPS stress survey findings
Pharmacy bodies have expressed worry at the findings of a recent RPS survey that revealed the "unacceptable" impact of sector pressures on the workforce.
The survey – which drew responses from 1,342 pharmacists working in all settings and did not provide a breakdown by sector – was conducted by the RPS and charity Pharmacist Support in October and November.
It found that 80% of respondents were at "high or very high risk of burnout" as a result of exhaustion.
The results corroborate C+D's own findings – handed to England's chief pharmaceutical officer Keith Ridge by RPS president Sandra Gidley in January. The C+D findings highlighted the rising levels of stress experienced by the community pharmacy workforce.
AIMp: "Survey results are very concerning"
The results of the RPS survey are "very concerning", but "this is not a surprise", the Association of Independent Multiple Pharmacies (AIMp) chief executive Leyla Hannbeck told C+D.
AIMp has "repeatedly highlighted" the "current workload issues" in community pharmacy and the impact of funding cuts on the sector, including at a parliamentary event organised by C+D and Pharmacist Support in September, she added.
It is "concerning to hear" that a large percentage of pharmacists are worried about the impact that high levels of stress could have on patient care, Ms Hannbeck said.
Community pharmacy needs to be "valued [and] invested in and receive the support and recognition it so rightly deserves", she said.
NPA: "Pharmacists are under immense pressure"
Work-related stress can "result in poor health and wellbeing of employees", and lead to "increased sickness absence and poor performance", the National Pharmacy Association said.
The organisation "recognises that pharmacists and members of the pharmacy team are under immense pressure", which can "take a toll on their mental health and wellbeing", it added.  
The NPA said it "agrees with and fully supports" the RPS and Pharmacist Support campaign for NHS-funded mental health and wellbeing support for pharmacists in all sectors.
CCA: "Unprecedented levels of stress"
The RPS survey "confirms" that pharmacy teams are reporting "unprecedented levels of workload and stress", the Company Chemists' Association (CCA) said.
It welcomed "increased openness" about mental health, and said a "happy pharmacy team will be more effective".
Changes to the contractual framework over several years mean that community pharmacists are "expected to take on an increased workload without an increase in overall funding for the sector", the CCA said.
It called upon the NHS, the General Pharmaceutical Council and pharmacy bodies to ensure that roles within community pharmacy teams are "sustainable, fulfilling and rewarding".
This reflects comments made by CCA chief executive Malcolm Harrison at a Westminster Health Forum event in November, when he called on NHS England to help prevent the "gradual erosion" of community pharmacy.
PSNC: "Very concerned" about pressures
The Pharmaceutical Services Negotiating Committee (PSNC) "supports calls" for pharmacists to have access to wellbeing support funded by the NHS, said chief executive Simon Dukes.
"The PSNC committee remains very concerned about the financial and capacity pressures currently facing many community pharmacies," he added.
Mr Dukes said that "ongoing negotiations" about the "outstanding elements" of the five-year funding agreement in England, as well as the built-in annual reviews, are "opportunities to discuss" the potential impact of changes on the sector with the government.
C+D takes pharmacy pressures to parliament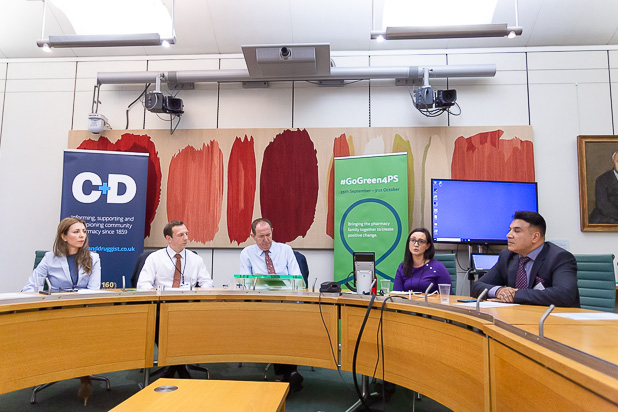 On September 9, C+D and Pharmacist Support brought together MPs, pharmacy representatives and pharmacists to discuss the rise of stress and workplace pressures among pharmacy teams.
The parliamentary event took place in Portcullis House, Westminster, and was hosted by all-party pharmacy group chair Sir Kevin Barron MP.
You can read C+D editor James Waldron's address to the event – in which he highlighted disturbing data from C+D readers about the extent of pressures in pharmacies – as well as the key points from each speaker.
If you would like to share your experiences, please email [email protected]