Senior pharmacist shares C+D's stress data with leading physicians
A member of the RPS English board has shared C+D's data on pharmacist stress with doctors and physicians at a medical conference.
Mahendra Patel, academic pharmacist and member of the Royal Pharmaceutical Society's (RPS) English pharmacy board, was invited to shed light on pharmacy pressures to an audience of more than 120 doctors from various specialisms at the British Association of Physicians of Indian Origin (BAPIO) conference on Saturday (September 14).
Inspired by C+D and Pharmacist Support's parliamentary event on pharmacy pressures – which he attended last week (September 9) – Professor Patel presented the results of C+D's data, which revealed that stress levels among readers have now reached 74%.
In January, former RPS English board chair – and current president – Sandra Gidley handed a briefing document created by C+D to England's chief pharmaceutical officer Keith Ridge, to persuade him of the growing problem of stress among community pharmacists. You can download a full copy of this data here.
Doctors unaware of pharmacist stress
Representatives from the General Medical Council (GMC) and British Medical Association (BMA) also presented at the conference and were unaware of the workplace pressures pharmacists are facing, Professor Patel told C+D this morning (September 16).
"It was an honour to be presenting to an audience full of doctors and consultants. I had to put pharmacy out there," he said.
"There are different issues [in the NHS], but the fundamental problem – stress – is the same," he added.
"It is all largely due to low staffing levels and other issues we identified at [C+D's] event in Westminster," suggested Professor Patel, who added that all medical professions should work together to combat rising levels of stress across the health service.
"The new NHS landscape is about having closer partnerships, better alliances and working together, so why are we only shouting about what is happening in the medical field when [we're facing] it in pharmacy too?" Professor Patel asked.
BAPIO president Dr Ramesh Mehta told C+D the conference showed that "stress among people working in all healthcare sectors is almost similar".
"We came to the conclusion that it would be most helpful if we all work in an integrated way to support the workforce," he added.
C+D takes pharmacy pressures to parliament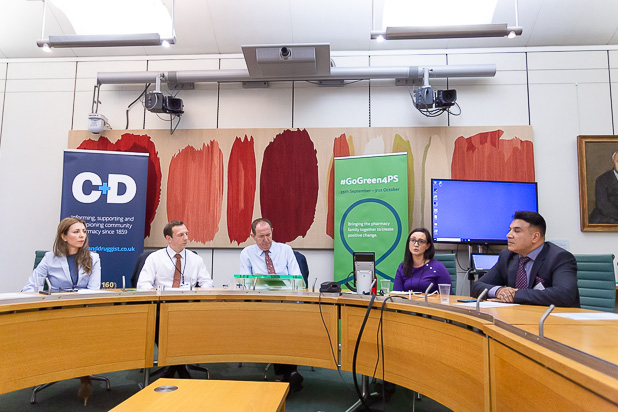 On September 9, C+D and the charity Pharmacist Support brought together MPs, pharmacy representatives and pharmacists to discuss the rise of stress and workplace pressures among pharmacy teams.
The parliamentary event took place in Portcullis House, Westminster, and was hosted by all-party pharmacy group chair Sir Kevin Barron MP.
You can read C+D editor James Waldron's address to the event – in which he highlighted disturbing data from C+D readers about the extent of pressures in pharmacies – as well as the key points from each speaker.
If you would like to share your experiences, please email [email protected]